Bridger Teton National Forest Projects
Monument Ridge Vegetation and Recreation Management project
The Monument Ridge Vegetation and Recreation Management Project, proposed by the Sublette County Collaborative, is multifaceted. It addresses vegetation management within the wildland urban interface, wildlife habitat enhancement activities, along with safety and access improvements for recreation. These activities are set to improve forest health and promote wildlife populations for elk, mule deer, and sage grouse. This project will provide positive wildlife benefits and recreation opportunities well into the future.
Pinedale Ranger District: Skyline Wildland Urban Interface Fuels Reduction Project
Fuels reduction treatments utilizing equipment as well as prescribed burning. The treatments will reduce the risk of high severity wildfire and increase public and firefighter safety.
Jackson Ranger District: Teton to Snake Fuels Reduction Project 
Phillips Ridge- Pile Burning 2021
Crews are hoping to start lighting the many piles on Phillips Ridge as early as mid October or as weather will permit for safe operations. 
10/27 UPDATE                                                                                              Crews have moved swiftly across the top of the ridge line to complete 40 acres and tomorrow will close up all burn operations on Unit 7, the largest unit. Completed units to date include units 2, 3 and 4 on the public information map. After tomorrow's operations, crews will wait for more moisture to return to the area and until that weather comes in, crews will remain in the area to patrol and keep an eye out for creeping fire behavior and also remove any snags that might threaten the trails in the area. 
10/26 UPDATE Great progress is being made on the piles up Phillips Ridge! A total of 240 acres completed in a couple days. At roughly 40 piles an acre, that is 9,600 piles eliminated on our term's and not left to battled during an unwanted wildfire. Crews will continue through the week and as long as conditions allow for objectives to be met.
Teton Interagency fuels specialists thank the public for the patience after along fire season and to our firefighter's who continue to support communities in fire protection, even after fire season. Thank you !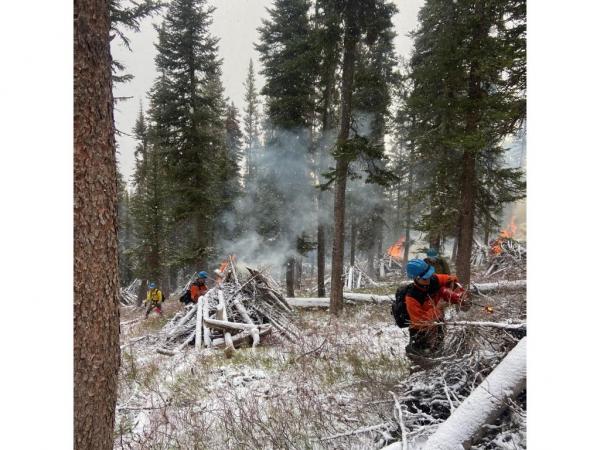 Kemmerer Ranger District:
Hams Fork Vegetation Treatment Project, Kemmerer Ranger District
This project is a result of the Hams Fork decision which includes timber sales, aspen restoration, hazard tree removal and prescribed burning. Recently 464-acres of aspen have been mechanically treated, and it is anticipated fire personnel will be burning slash piles in the Basin Creek unit this spring, in late April to early June. Burning of slash will result in the stimulation and regrowth of new aspen and the reduction of conifers within these stands.
The purpose of this project is to improve existing aspen stands by prescribed burning in a large area to stimulate aspen cover types. This objective will allow improvement over a large enough area to help minimize impacts from big game animals. In addition to lowering fuel loads and benefiting wildlife, the project will also enhance the visual quality of aspen. 
Locations for this project include one unit in the Indian Creek drainage, one unit in Basin Creek off the Green Knoll/Big Spring cutoff, and one unit in the West Fork of Hams Creek. Additional slashing units in Green Knoll and Nugent Park area were added in the summer of 2018.
For more information on this project contact Tim Sherwin, 307-828-5112
La Barge Vegetation Restoration Project, Kemmerer Ranger District
Continued fire suppression has attributed to the homogeneous, older, conifer-dominated landscape. There are currently large areas of the late secessional mountain sagebrush habitat resulting in the reduction of diversity in herbaceous plants. There remains a need to increase the health, vigor and resiliency of forest stands while diversifying the sagebrush successional stages. The project area is 52,273 acres. The current targeted acres for prescribed fire are 2,217 acres. Two units will be targeted, Packsaddle Ridge (477 acres) and sections of Little Hornet (942 acres). These acres will be completed over multiple entries and not during one attempt. The burns may take place in the fall and in the spring, weather permitting.  
For more information on this project contact Tim Sherwin, 307-828-5112 
Grand Teton National Park Projects - 2021
Sky Ranch
The Sky Ranch property was acquired by Grand Teton NP in 2005 and subsequently was evaluated and listed as a historic property whose management is directed through the park's Historic Properties Management Plan of 2017.  Sky Ranch represents a single family residence designed and constructed in the 1950's with particular attention to the building design and siting along the edge of the large adjacent meadow.
Grand Teton NP is guided by the International Wildland -Urban Interface Code that has been adopted as agency policy.  The WUI code establishes fuel treatment standards for areas adjacent to developments.  In the 2020-1 field seasons firefighters will establish 21 acres of defensible space around the Sky Ranch's multiple structures.  Careful consideration is given to the historic nature of the property and the identified contributing elements identified in the historic property nomination.  Work will focus on modification or removal of vegetation immediately adjacent to the buildings, reducing the canopy cover of mature trees in the general area of the property, reducing the accumulation of dead and down fuels on the forest floor, and mowing grass, forbs, and seedlings growing in the open area around the ranch property.  Accumulated woody debris will be piled on site and burned after fuels have dried and weather and fuel conditions limit the chance of fire spread from the debris piles. 
Historic Structures Mowing
This annual effort will treat primarily grass and herbaceous fuels in the immediate vicinity of a number of historic properties in Grand Teton National Park.  These mechanical treatments are completed primarily with mowers and weed-eaters.  Project implementation is in the summer once most grass growth has finished and prior to the fine fuels fully curing for the year.  Wildland fire continues to be one of the greatest threats to loss of historic properties in the area.
Fire Effects Monitoring
The Teton Interagency Fire program includes a robust Fire Effects Monitoring element.  The Fire Effects Crew visits treatments before implementation and post-treatment.  Treatment objectives are designed not only to be effective in changing fire behavior but also measurable in the field post treatment in order to determine success.  The crew may establish permanent plots, measure burned area recovery, conduct fuels transects, and/or establish photo points.  Post treatment visits are scheduled at regular intervals (1 year, 2 years, 5 years, 10 years..) dependent on how each projects objectives are written.
In 2021 the Fire Effects Crew will visit the following Park projects completed in previous years:
Shadow Mountain RX - a prescribed fire implemented in 2011 in front of structures at the base of Shadow Mt.
Teton Science School RX - a prescribed fire from 2001 between Ditch Creek and the Kelly campus of the Teton Science School.
Flagg Ranch/Berry Fire - retake photo points of areas around the developments that burned in the 2016 Berry Fire.
Jenny Lake camp ground - re-visit photo points 15 years after mechanical treatment within the camp ground footprint.
Colter Bay ridgetop - establish monitoring for a re-treat of the Colter Bay thinning project.
Historic Structures mowing - photo points of annual mowing to reduce fuels adjacent to a number of historic structures in the park.
Pacific Creek mechanical - Monitoring 5 years post mechanical treatment along the Pacific Creek Rd.
Eynon Ridge RX - re-visit monitoring efforts 15 years post prescribed fire treatment for habitat/aspen management along the east boundary of the park north of Spread Creek.
Phelps Moraine RX - Year 10 after prescribed fire implementation along Death Canyon Trail head access Rd.
Lizard Creek CG Mechanical - establish monitoring efforts ahead of retreating the Lizard Creek CG for fuels buildup.
Lost Creek RX - Re-visit photo points from the prescribed fire project in the sage implemented 15 years ago.
They will also visit proposed projects and establish pre-treatment plots to measure current conditions and control plots.  The crew works across the Teton Interagency Fire area, visiting treatments conducted across the Bridger-Teton National Forest and adjacent lands as well.
For further information regarding fuels management activities in Grand Teton National Park or the John D. Rockefeller Jr. Memorial Parkway, please contact Chip Collins, Fire Management Officer at 739-3310; or Bill Mayer, Deputy Fire Management Officer at 739-3313.
Jackson Ranger District: Grouse Mountain Whitebark Pine Restoration Project / Completed 2021
The Blackrock Ranger District of the Bridger-Teton National Forest plans to begin ignitions on the Grouse Mountain Prescribed Fire as soon as Monday October 4th, 2021. The unit is up to 365-acres approximately 7-miles south of US Highway 26/287 in the vicinity of Grouse Mountain.
Prescribed fire managers will evaluate weather and fuels conditions to ensure ignitions are safe and will meet the vegetation treatment objectives identified by fuels and whitebark specialists during the planning phase. Personnel on the unit will use drip torches to ignite fuels within the burn unit  as well as help igniting with help from the local helicopter. Fire staff will work to keep fire from getting into adjacent areas by suppressing spot fires which pop up due to fall out from embers from adjacent trees. Smoke will be visible from the Moran, Buffalo Valley and Togwotee Pass areas.
This is a fantastic project with collaboration between multiple agencies, scientists, and resource specialists all striving to enhance whitebark pine research, restore valuable wildlife habitat and protect the keystone species within the Greater Yellowstone Ecosystem. To learn more about this project and prescribed fire as a tool for restoration click on the flyers link learn more.  
Flyer  Area Map  Project Map  Wildfire as a Tool for Whitebark Pine Restoration
Contact: Lesley Williams-Gomez 307-774-4209