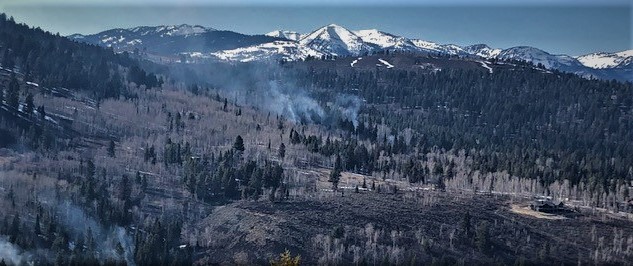 Taylor Mountain RX Spring 2021 -Fuels reduction included applying fire in the sage and grasses to help break up the continuous fuels and slow fire from racing up hill and into the homes.  
---
Just as wildfires can occur anywhere in the United States, fire-adapted communities can be created anywhere to help protect residents in wildfire-prone areas. The following links will help you as a homeowner and/or a wildfire ambassador, in creating change on the ground and within your communities in wildfire mitigation.
As you have questions about your role in contributing towards building a fire safe community, call 307-739-5424 for more information lesley.williams@usda.gov
---
Community Wildfire Coalitions and Programs:                  
TAWPC (Teton Area Wildfire Protection Coalition) Meeting Notes Febuary2023, April 2023
AAWPC (Alpine Area Wildfire Protection Coalition)    
IPSWP (Island Park Sustainable Wildfire Community)
Wildfire Neighborhood Ambassador Program:
Wildland Urban Interface (WUI) and Communities at Risk: 
Wildland Fire Collaborators 
Community Wildfire Protection Plans
Fire Mitigation Videos, Webinars and Just Good Information to Share!