Alpine Area Wildfire Protection Coalition "All Fire Days"
Alpine, Wyo. –  The Alpine Area Wildfire Protection Coalition (AAWPC) is happy to recognize the hard work that went into the All Fire Day on May 21, 2022. Read: Thank you
The purpose of this event was to build relationships across agency boundaries by working together throughout the day, and to provide hands on skills training, and becoming familiar with neighboring agencies equipment and capabilities. All the agencies that participated in this event would be the ones responding to a wildfire in the Alpine Area.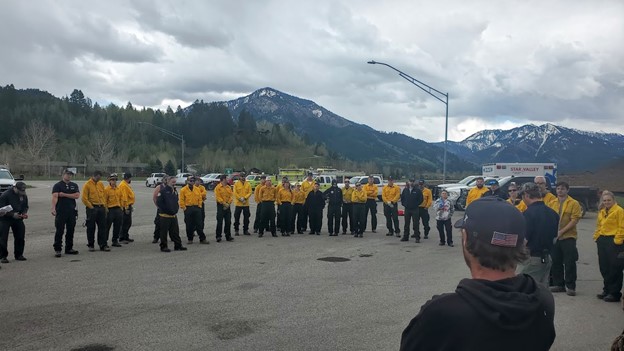 For more information......News Release, 2022 Community Wildfire Defensible Space Program, Welcome to Lincoln County, WY (lincolncountywy.gov)
The Teton Area Wildfire Protection Coalition(TAWPC) supports wildland fire mitigation programs within the North Zone of the Bridger Teton National Forest. Along with community support and collaboration efforts between WiRe (Wildfire Research), County Fire Emergency Management, Wyoming State Forestry and Federal Wildfire Management partners the following information has been organized to help the community of Teton County better understand and address community fire adaptation. Teton County Wildfire Risk Survey Results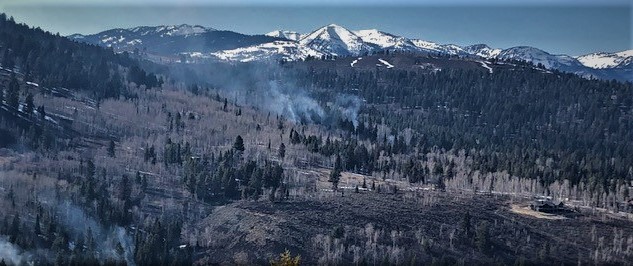 Taylor Mountain RX Spring 2021 -Fuels reduction included applying fire in the sage and grasses to help break up the continuous fuels and slow fire from racing up hill and into the homes.  
---
Just as wildfires can occur anywhere in the United States, fire-adapted communities can be created anywhere to help protect residents in wildfire-prone areas. The following links will help you as a homeowner and/or a wildfire ambassador, in creating change on the ground and within your communities in wildfire mitigation.
As you have questions about your role in contributing towards building a fire safe community, call 307-739-5424 for more information lesley.williams@usda.gov
---
Community Wildfire Coalitions and Programs:                  
TAWPC (Teton Area Wildfire Protection Coalition)
AAWPC (Alpine Area Wildfire Protection Coalition)    
Progression Map 1, Progression Map 2, Progression Map 3, AFD Operations Map, AFD Travel Map 
IPSWP (Island Park Sustainable Wildfire Community)
Wildfire Neighborhood Ambassador Program:
Wildland Urban Interface (WUI) and Communities at Risk: 
Wildland Fire Collaborators 
Community Wildfire Protection Plans
Fire Mitigation Videos, Webinars and Just Good Information to Share!