8/11 Update - The fire was thoroughly checked last week and declared out. The closure order has been lifted.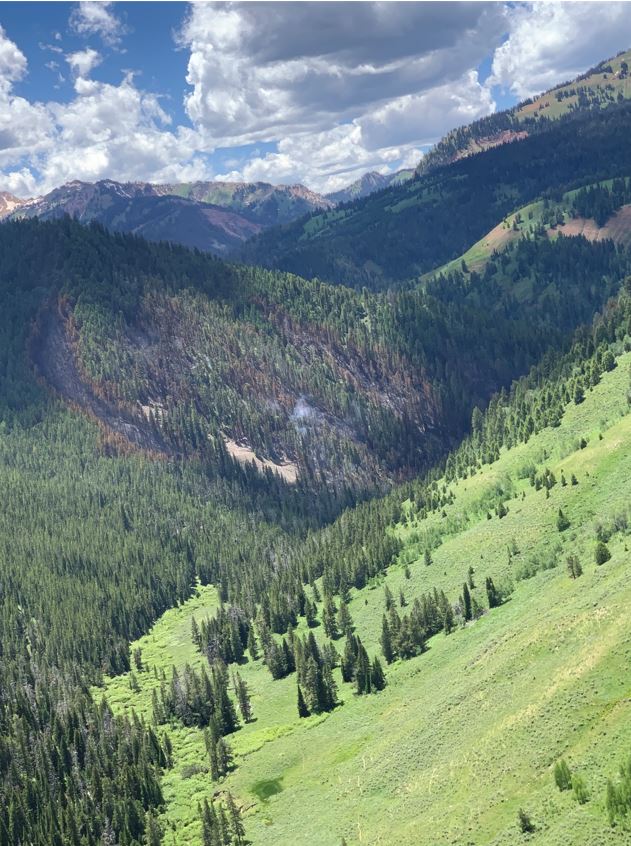 7/18 Update - The fire is now 100% contained. A type 5 IC has been assigned and will be checking the fire regularly for any heat.
7/7 Update - The area closure has been reduced. Currently the Snag Creek drainage and Snag Creek Trail are closed. The Cliff Creek and Monument Ridge Trails remain open. Resources on the fire include;  Type 4 Incident Commander, Type 4 Engine, Type 1 Fire Module, and Type 3 Helicopter.
7/5 Update - 90% contained. Last night's IR flight found no hot spots, and the transition plan has been slightly accelerated with the exchange from the Type III IMT back to the home unit scheduled for 0600 on Wednesday July 6th. All Type II IA crews were released today, and all Type I IHCs will be released tomorrow.
A Type I WFM (Wildfire Module) will arrive tomorrow, and a Type III helicopter will remain committed to the fire. One of the Teton Helitack Type III helicopters will remain on Forest for short haul capability, with the Sublette County SAR helicopter (also short haul capable) as an alternate. 
7/5 Sandy Fire Public Information Map
7/4 Update - 70% Contained. Work continued today on cooling hotspots within the fire perimeter, and an IR (heat detecting) flight is scheduled to occur this evening to identify any spots that need addition effort. All Type II IA crews will be released from the fire tomorrow. The remaining resources on the fire will be 4 Type I Interagency Hotshot Crews, 2 Type III helicopters and a variety of medical and support personnel.
7/3 PM Update - There was zero growth in the last 24 hours. Hose lays have been completed that allow access to all portions of the fire south of Sandy Creek, and work has begun on cooling hotspots within the fire perimeter. Both Type I helicopters have been released, two Type III helicopters remain on the incident along with four Type I Interagency Hotshot Crews and two Type II Initial Attack Crews. Current containment is 50%.
7/3 AM Update - The fire had minimal growth in the last 24 hours. Firefighters made significant progress on the construction of the handline on both the north and south sides of Snag Creek. Crews came off the fire in the late afternoon yesterday due to an approaching localized storm.  
7/2 Update - Now 105-acres. An area closure is in effect for firefighter and public safety. Portions of the Cliff Creek, Highline and Bondurant Creek trails are closed, among others. The Sandy Fire had low fire behavior yesterday and through the evening. Resources include: Type lll incident management team, 3 Type 1 helicopters, 2 Type II 20-person hand crews, 2 Type 3 helicopters and numerous local firefighters.
7/1 Update - The fire is now 99-acres and burning in the Cliff Creek drainage near Monument Ridge, by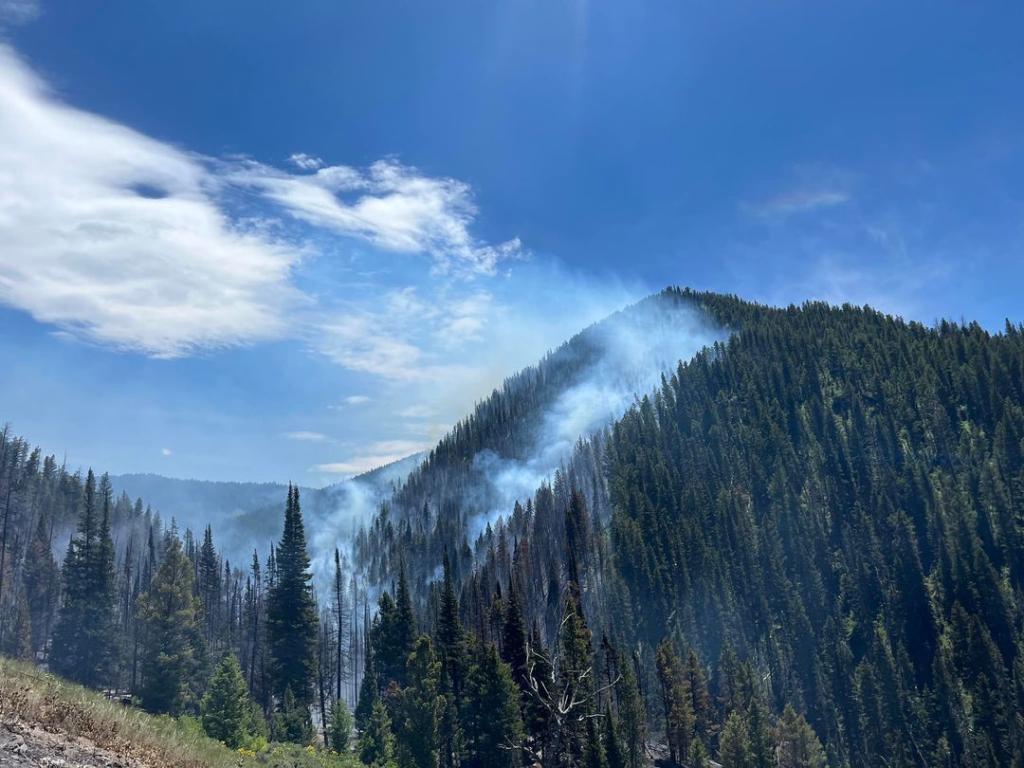 Sandy Creek. An area closure is expected to go into effect today. The Sandy Fire continued to exhibit moderate fire behavior and grew from 50 to 99 acres. Resources include the 20-person hand crew as well as a Type I Hotshot crew and a Type I helicopter. Construction of handline continued on the north side of Snag Creek to secure anchor points, and firefighters are working slow the spread of the fire south of Snag Creek.
7/1 News Release    Public Information Map  
6/30 Update - The fire is 64-acres in size and has spotted over Snag Creek. A Type 3 incident management team has been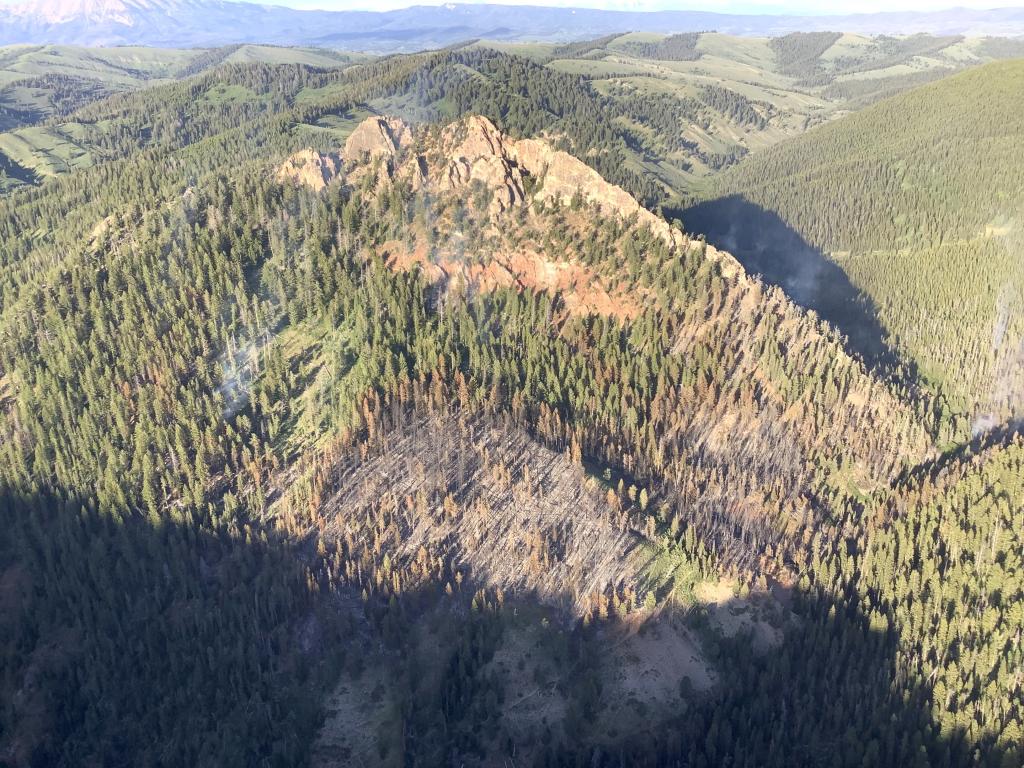 ordered. A Type 3 incident management team is mobilized to provide command and control and assist the Forest by managing the fire suppression operations.
6/29 Update - The fire is burning on a very steep slope and as it burns it is leaving standing, half-burned fuel in the area that is susceptible to reburning. The fire was spotting today which means it was making smaller fires outside the main fire perimeter. Public and firefighter safety are our highest priority. The cause is under investigation. There are no road or trail closures in effect.
6/28 - This fire, reported at 3:30 pm June 28, is located on the Big Piney Ranger District in the Cliff Creek drainage near Monument Ridge and is burning in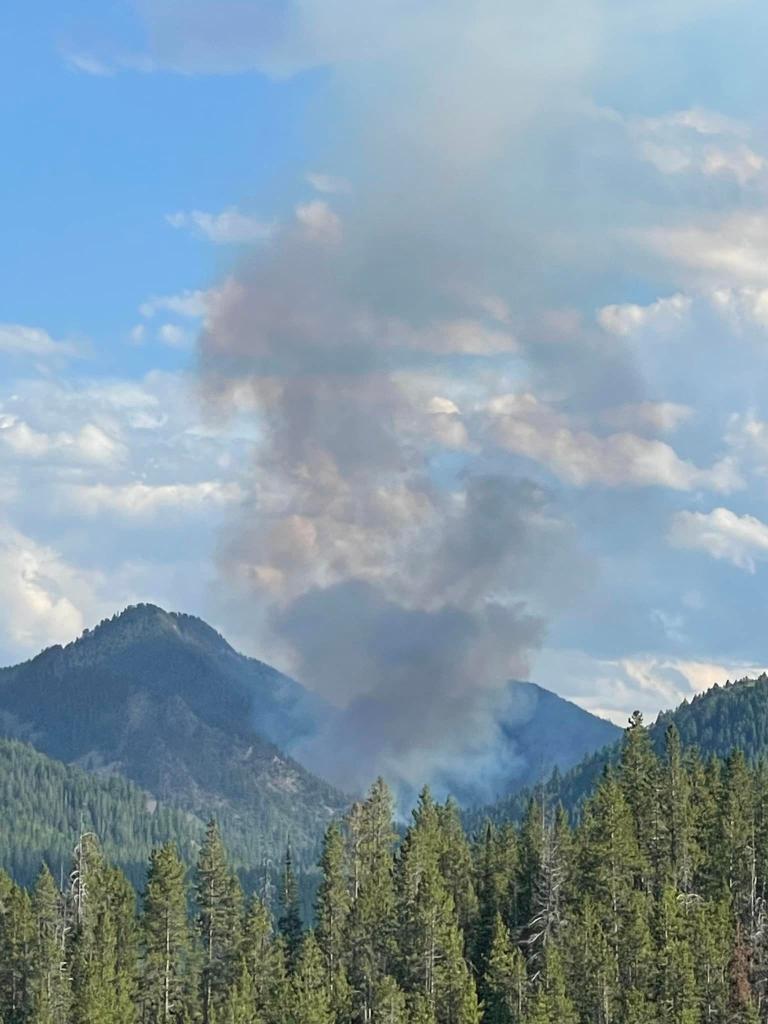 timber.
Currently there is a helicopter, two engines, and firefighters from Kemmerer, Pinedale, and Jackson suppressing the fire. Two handcrews, a Type 2 IA and Type 1, have also been ordered and should arrive today and tomorrow.
Cause of the fire is under investigation. 
6/28 - Sandy Fire News Release  image 1  image 2  image 3  image 4
Location
Big Piney Ranger District, BTNF