information
Pass Creek
Pass Creek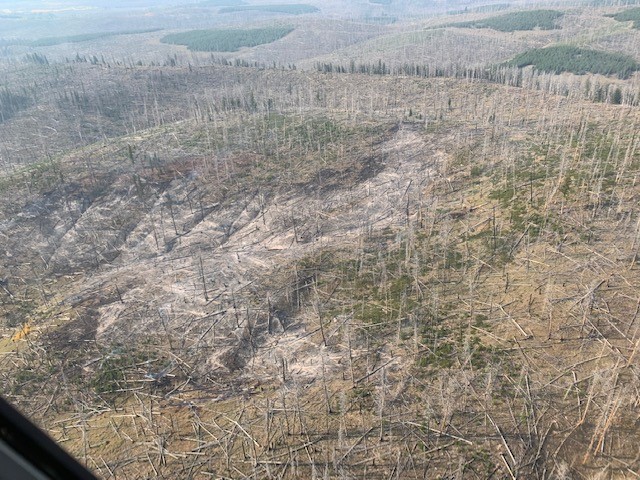 11/2 Update: After weeks of patrol and monitor and no heat or activity found, the fire was declared out on Oct. 18.
9/18 Update: East Zone Engines 671 and 421 checked the fire today. Local resources will continue to monitor the fire until it is out. Due to numerous falling snags, it is too dangerous to put firefighters interior of the fire to put it out.
9/18 Update: The firefighters were able to construct line around the fire and it is 'contained' as of 10:30 this morning. All but local resources have been released from the incident. Local crews will continue to monitor fire activity. A storm moved over the fire area today bringing rain and wind, causing hazardous snags to fall in and around the fire perimeter.
9/17 Update: Crews are making good progress constructing saw and handline to contain the fire, and will continue work through the weekend. Favorable weather is expected to arrive on Monday in the form of rain/snow.
This fire was discovered at approximately 3 pm on Wednesday 9/15 and is located south of the Horse Creek drainage on Pass Creek.
Two helicopters worked the fire with buckets as firefighters from Sublette County, East Zone Engine crews, and helitack hiked in to the fire. Air attack and two SEATS (single engine air tankers) were ordered out of Pocatello as well as a load of 8 Smokejumpers out of West Yellowstone.
A Type I (Hotshot) crew, Lone Peak out of Northern Utah, will arrive at the fire Thursday. A Type 1 helicopter is also on order.
There are currently no closures associated with this fire but the public is being asked to stay out of the immediate fire area.
The cause of the fire is a lightning strike from a storm that passed over the area on Sunday.
Location
BTNF Big Piney Ranger District.