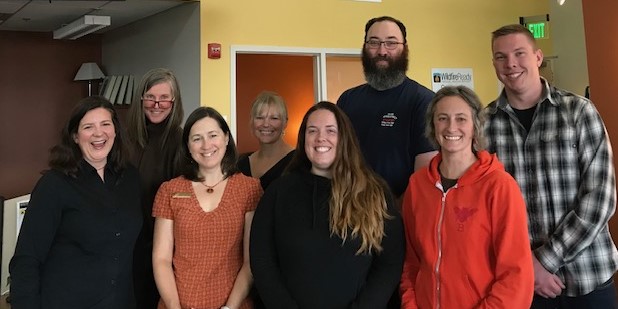 TIDC is located in Moose, Wyoming and is an all-risk dispatch center providing for wildland fire, law enforcement, SAR (search and rescue), EMS, structural fire, maintenance and resource management dispatching. TIDC serves Bridger-Teton National Forest, Grand Teton National Park, and John D. Rockefeller, Jr. Memorial Parkway, as well as wildland fire and prescribed fire activities for the U.S. Fish & Wildlife Service (National Elk Refuge), Wyoming State Forestry (Teton Zone), and County Fire Services for Teton and Sublette counties and the northern portion of Lincoln County. Teton Interagency Dispatch Center is staffed 24 hours per day from June to September and 6 a.m. to 10 p.m. during the off-season.
THE POSITION
The incumbents will serve as an interagency dispatcher in a cooperative dispatch program primarily supporting wildland fire and aviation, and also some law enforcement, structural fire, EMS, SAR, maintenance and other emergency services programs. The staff is comprised of six permanent dispatchers, one subject-to-furlough dispatcher and five summer seasonal dispatchers. The Teton Interagency Dispatch program has earned a quality reputation for professionalism and high standards. We are looking for individuals with an interest in working as a positive team member to provide support to field personnel to build upon the successes of the current program. Previous experience is not required.
Teton Interagency Dispatch Center (TIDC), located at park headquarters in Moose, WY provides primary dispatch support for both agencies as well as the National Elk Refuge, and Teton, Sublette and the northern portion of Lincoln Counties. Initial attack ground and aviation fire resources may be staffed with Forest Service and/or Park Service personnel. Personnel from other agencies (e.g.; cooperating counties) are routinely dispatched to incidents in the Forest or Park regardless of boundaries or land ownership.

PROGRAM OVERVIEW
Medical Emergencies

Dispatch 3 ambulances for GTNP

193 Emergency Medical Service responses
5 Fatalities

Search-and-Rescue

Supported 50 SAR personnel during mountain, lake & river rescues,

67 SAR responses GTNP
13 Major SAR responses GTNP

Coordinated with 5 counties:

Teton, Fremont, Sublette, Park, and Park County, MT

General

TIDC staffed 24 hrs/day for 3.5 months

Law Enforcement

Supported 42 LE personnel for GTNP and 2 for BTNF

2,648 Case Incidents
39 Arrests,
602 Citations
958 Warnings
1,230 Visitor Service Incidents

Support Outside Agencies on Request

TCSO & other counties
Jackson PD
Wyoming Highway Patrol
Wyoming Game & Fish
National Elk Refuge
Wyoming Fish & Wildlife
LOCATION
GRAND TETON NATIONAL PARK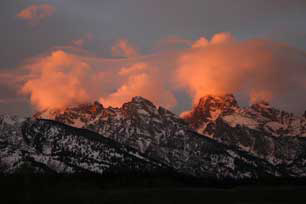 Grand Teton NP encompasses the Teton mountain range and a portion of the valley of Jackson Hole, protecting both the scenic beauty of the alpine environment and the historic setting of fur trappers and early western settlement. The park and surrounding area offer an abundance of recreational opportunities including hiking, backpacking, and world-class mountaineering experiences. The Snake River flows through the valley floor in the park and provides for fishing and boating outings. A series of lakes along the base of the mountains (Jackson, Jenny, String, and Leigh Lakes) adds to the scenic beauty and photo opportunities of this high mountain setting. The park attracts nearly four million visitors per year.
THE BRIDGER-TETON NATIONAL FOREST
At 3.4 million acres, the Bridger-Teton is the second largest National Forest in the United States outside Alaska. It lies in Western Wyoming, adjoining Yellowstone and Grand Teton National Parks, and within the Greater Yellowstone Ecosystem, the largest remaining area of undeveloped land in the 48 conterminous United States. It is noted for its unusual scenery and natural features, large and diverse wildlife populations, and habitat for threatened and endangered species.
The Forest contains the headwaters of 4 major river basins: the Yellowstone (Missouri/Mississippi Basin); Snake (Columbia); Green (Colorado); and the Bear River (Great Basin). Seven major mountain ranges are found within the Forest Boundaries. These mountain ranges are part of the northern Rock Mountain and include part of the striking Teton Range and Wind River Mountains.
The Forest borders Jackson Hole, famous in the history of early explorers and fur traders, and winter home of the well-known Jackson elk herd. The Forest, with its Supervisor's Office in Jackson, is composed of the Jackson, Blackrock, Pinedale, Big Piney, Greys River and Kemmerer Ranger Districts.
THE COMMUNITY
The Town of Jackson is the county seat and the only incorporated municipality of Teton County . "Jackson Hole" as it's often called, refers to the whole area which is a 50 mile long valley surrounded by high mountains.
Jackson is a popular tourism destination because of its proximity to Yellowstone & Grand Teton National Parks, its unmatched scenic beauty, the world-class skiing, and its western character.For tourism information, including listing of lodging, restaurants, and shopping, please contact the Jackson Hole Chamber of Commerce at 307-733-3316 or on the web at Jackson Hole Chamber. For further information on Teton County, go to the following link: http://www.tetonwyo.org/
This spectacular valley in the mountains offers residents and visitors alike an unparalleled array of outdoor activities for year-round enjoyment. From skiing, snowmobiling, backcountry touring and dog sledding in the winter to hiking, rafting, fly fishing, mountain biking and rock climbing in the summer. There is recreational opportunity for everyone.
HOUSING
Housing is provided for seasonal employees in Grand Teton National Park.