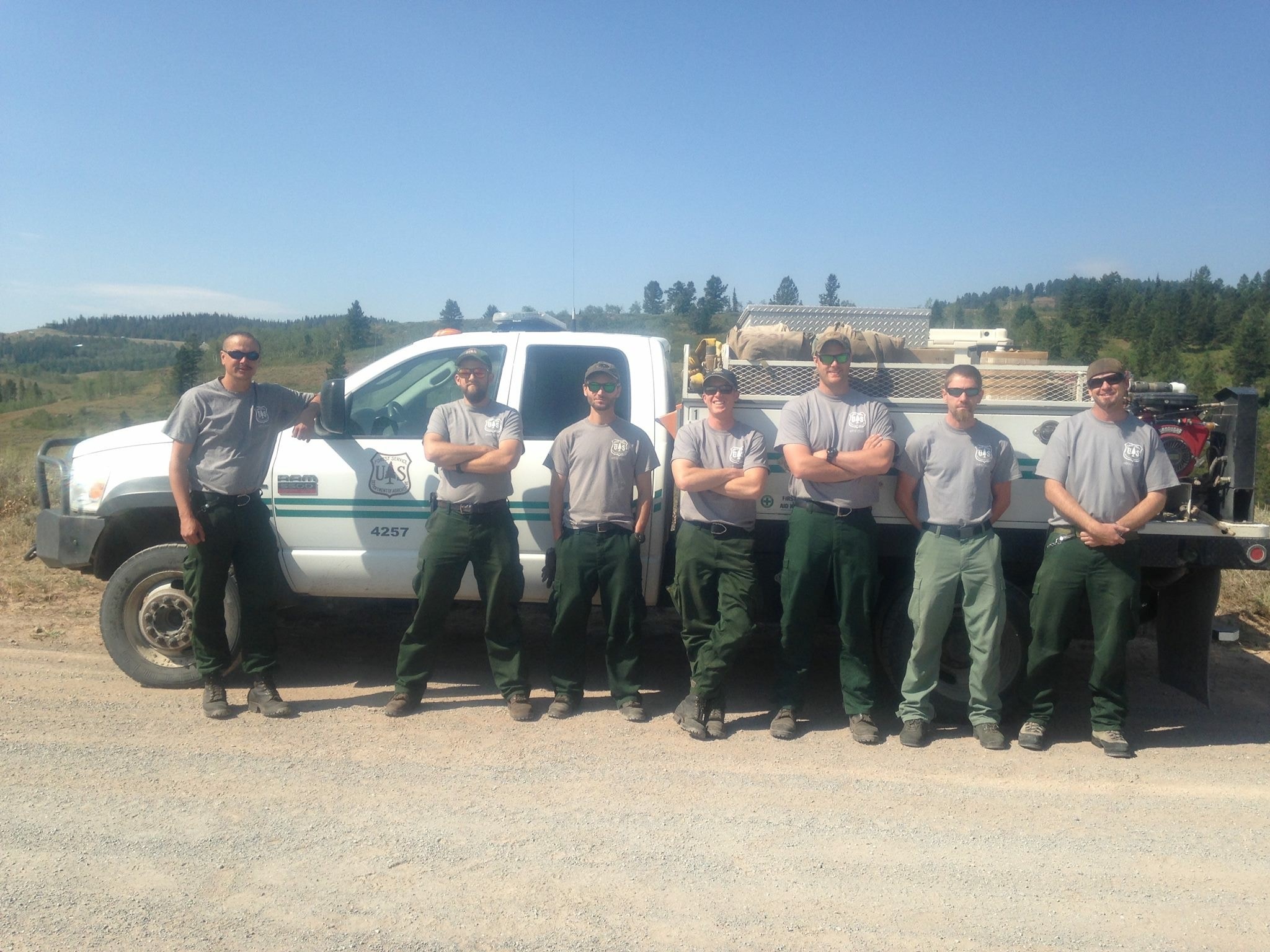 The Kemmerer and Greys River Ranger Districts make up the West Zone Fire Management area. The zones consist of 719,383 acres (438,883 acres for Greys River and 280,500 acres for Kemmerer.)The West Zone Fire organization is comprised of one Type 4 Engine (Kemmerer RD) and one Type 6 Engine (Greys River RD), one Fire Prevention Technician, a Fuels AFMO, an Operations AFMO and a Zone FMO. The Zone averages over 25 fires per year. Other forest resources commonly used on the zone include Teton Helitack, Teton Interagency Type 2 IA Crew, and other Forest Type 4 and Type 6 Engines. A good working relationship exists with Lincoln County Volunteer Fire Departments. The module consists of 3 permanent staff (Supervisory Fire Engine Operator, Assistant Fire Engine Operator, Lead Fire Fighter) and 2-3 seasonal crewmembers. Seasonal employees are provided government housing.
A normal fire season for the area is late July thru September. Fires on the West Zone have been reported as early as May and as late as December. Seasonal crewmembers can expect to start in mid May to early June and work into October. Expectations for the engine crews are high. Fire assignments include local Initial Attack, and off-forest engine details and assignments. Assignments can be with the Engine or with the Teton Interagency Type 2IA hand crew. When not assigned to a fire, the crews can be found out in the forest prepping prescribed burn units, carrying out fuel reduction treatments or completing various other projects for the districts.
For further info, please contact Adam Hansen, Engine Captain at (307) 886-5335 or by email at adam.hansen@usda.gov.
The Forest
BRIDGER-TETON NATIONAL FOREST
The Bridger-Teton National Forest (BTNF) is part of the largest intact ecosystem in the lower 48 states. The 3.4 million acres stretch from the southern border of Yellowstone National Park, covering the eastern portion of Grand Teton National Park, arching around Jackson Hole, to the prairies of southwest Wyoming. The Forest includes headwaters of three nationally significant rivers the Yellowstone, Snake and Green.
Recreation opportunities and scenic quality are internationally renowned. The Greys River Ranger District offers some of the nations best opportunities for summer and winter outdoor activities. Residents enjoy trout fishing, hunting, camping, hiking, golfing, snowmobiling, wildlife viewing, horseback riding, boating, downhill and cross-country skiing. A unique feature is the Periodic Springs on Swift Creek, which is one of the few natural coldwater geysers in the world. A short drive to the north are two of the United States top National Park destinations, Grand Teton and Yellowstone.
The Community
Afton is the largest town in Star Valley and is located at the south end. Afton has a population of about 2,000. Star Valley is 60 miles long by 5 miles wide, located on between the Idaho-Wyoming border to the west and the Salt River Range on the east, the elevation is 6,134 feet. The town also boasts the largest Elkhorn Arch in the world spanning 75 feet and containing over 3000 antlers donated by the Wyoming Game and Fish Department. Cutter (winter horse chariot) racing had its humble beginnings in Afton, and there is a track where locals enjoy this thrilling sport. The nearest airport is in Jackson. The crime rate in Afton is well below the national average. The state of Wyoming does not have State income tax.
The Afton school system is comprised of 2 elementary schools. Afton elementary for grades K-3 with a student teacher ratio of 16 to 1, total student population is 365. Osmond elementary, 2.5 miles from Afton for grades 4-6 with a student teacher ratio of 17 to 1, total student population 304. Star Valley Junior High grades 7-8 with a student teacher ratio of 16 to 1, total student population 367. Star Valley High School grades 9-12 has a student teacher ratio of 17 to 1, total student population 707. The University of Wyoming has a satellite center that offers a variety of adult education programs.
Housing prices ranging from 150,000 to 250,000 for a family home, rentals are available. Afton amenities include grocery stores, banks, churches of various denomintations, variety stores, a local weekly newspaper, theater, and a radio station. The town also has a fairgrounds that host a variety of venues thoughout the year including the Lincoln County Fair. An 18 hole Johnny Miller signature golf course is due to open in 2010. The library has a collection of over 40,000 titles, audiovisual items, 5 computers with internet access and several reading programs for children. Star Valley Medical Center is a 16 bed facility and offers all of the standard hospital ammenities such as chemotherapy, cardiac stress testing, surgery, emergency services, etc. There is also a 24 bed Care Facility providing skilled nursing care to senior citizens. An outreach clinic is located in the town of Alpine, 34 miles to the north of Afton. More information on Star Valley can be obtained from the Chamber of Commerce website: www.starvalleychamber.com, or telephone numbers: (307) 883-2759, or toll free 800-426-8833.
The average temperatures are 86 ° in July and 13 ° in Jan. There are approximatley 208 sunny days per year, the average rainfall is 17.6 inches and the average snowfall is 39.7 inches (reference www.bestplaces.net).
Proximity to surrounding locations:
| | |
| --- | --- |
| Jackson, Wyoming (SO and Jackson District D4) | 69 Miles |
| Big Piney, Wyoming (Big Piney District D2) | 130 Miles |
| Pinedale, Wyoming (Pinedale District D7) | 120 Miles |
| Ogden, Utah ( Regional Forest Service Office) | 162 Miles |
| Idaho Falls, Idaho | 100 Miles |
| Salt Lake City, Utah | 201 Miles |