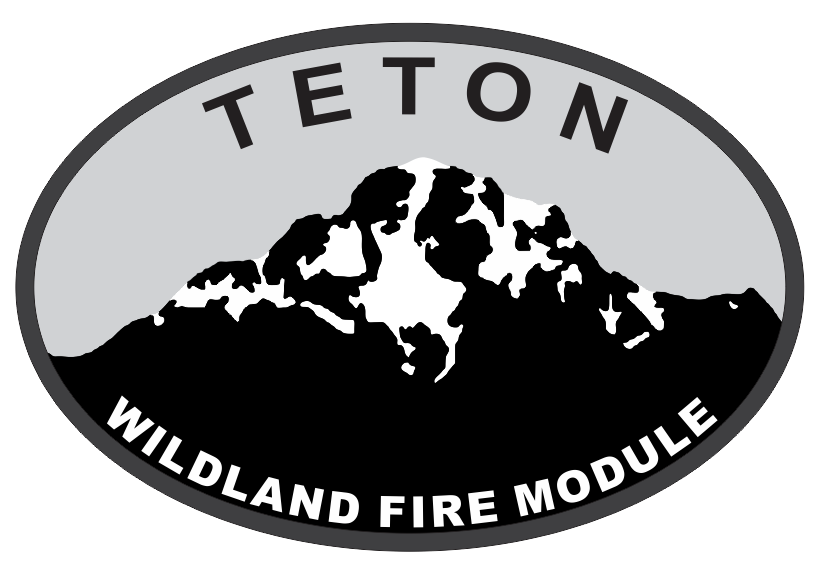 Work Station:  Blackrock Ranger Station – Moran
Teton Wildland Fire Module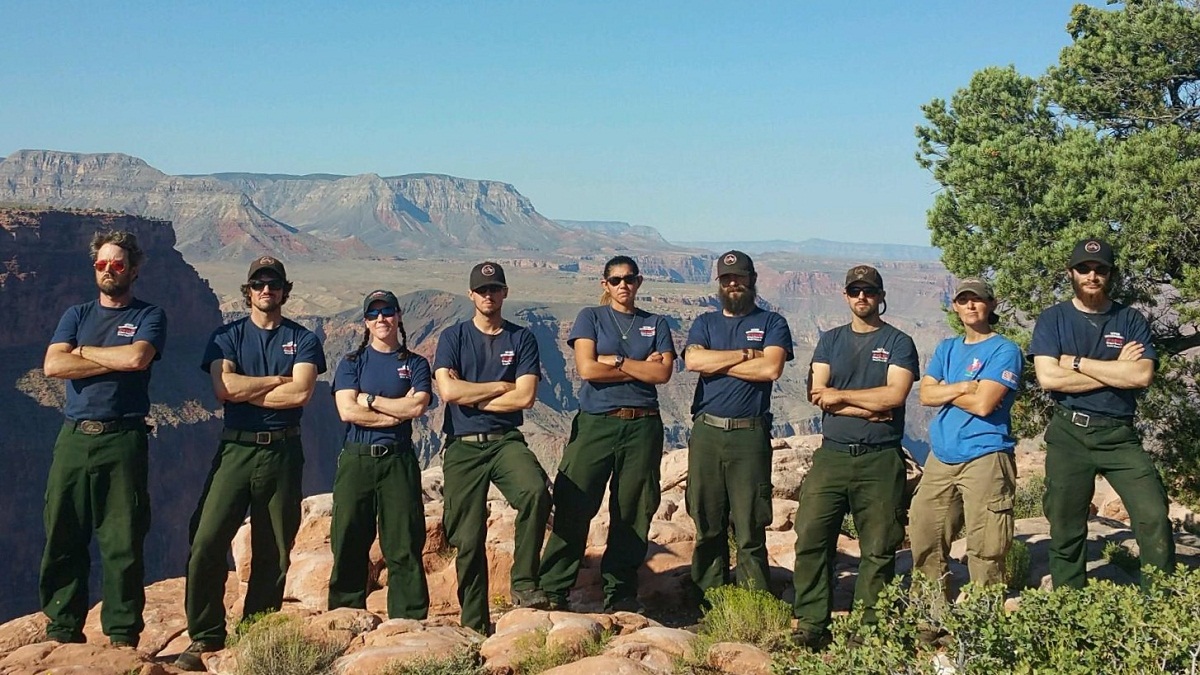 The Teton Wildland Fire Module (WFM) is a mobile, self-sufficient and tactically skilled resource that is used in a variety of wildland fire and fuels related work. The primary mission of the module is to provide a skilled, efficient workforce to accomplish the full range of wildland fire management tasks including prescribed fire preparation and implementation, managing fire for resource benefit, fuels reduction projects, hazard tree removal, and wildland fire suppression. The module consists of one GS-8 Module Supervisor, one GS-7 13/13 Assistant Supervisor, two GS-6 13/13 Squad Leaders, one GS-5 13/13 Senior Firefighter and five to seven crew members.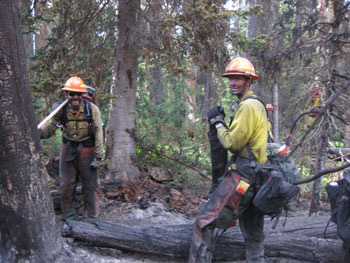 While working on Forest and Park projects, crewmembers routinely work long days that include hiking, heavy lifting, and extensive use of hand tools, chainsaws, and other equipment. Some projects are away from the duty station requiring the crew to camp at the project site. The Module is also available for wildfire assignments using a wide range of tools and skills to complete a variety of fire management objectives. Assignments may include ignition, suppression, monitoring, and data collection utilizing everything from chainsaws and drip torches to computers, weather stations, and motion-sensing cameras. Fire assignments last up to 18 days, prior to a day off, and are generally spent camping near the fire with few amenities. The crew participates on the Teton Crew, a 20-person Type 2 Initial Attack crew that is assembled for local and national assignments throughout the season. Safety and training are priorities for the crew. The Teton Fire Module is stationed at the Blackrock Ranger Station compound on the Buffalo Ranger District, approximately 9 miles east of Moran Junction, Wyoming.
Physical Training
Whether on project work or wildfires, crewmembers routinely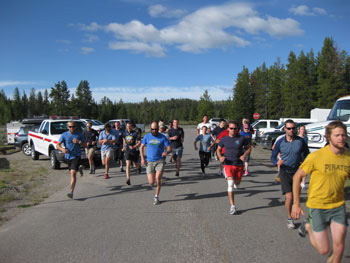 are hiking on steep mountain terrain carrying approximately 45 lbs of gear. Due to the physical nature of this position it is imperative that crewmembers are in excellent physical shape to prevent injuries. A physical evaluation will be conducted the first week of work which consists of the pack test (required for position), sit ups, push-ups, pull-ups, 1 ½ mile run and hiking Rosie's Ridge (800' elevation gain in 0.5 miles). The goal of the Teton Fire Module physical fitness training program is to prepare firefighters for the rigorous duties of wildland fire work and crew safety. Each member of the Teton Fire Module should arrive on the first day of work in top physical condition. Blackrock Ranger Station elevation is at 6890 feet, PT runs and hikes involving vertical climbs up to 1000 feet are common. Applicants are encouraged to maintain a rigorous physical training program before the season starts to prepare for the daily physical fitness training with the crew. Our workouts include stretching, strength training, power hikes, and 3 to 5 mile runs over varied terrain.
Work Capacity Test (WCT)
Taking and passing the WCT at the ARDUOUS level is a "condition of employment." The Arduous fitness (Pack) test requires completing a 3 mile hike within 45 minutes while carrying a 45 pound pack.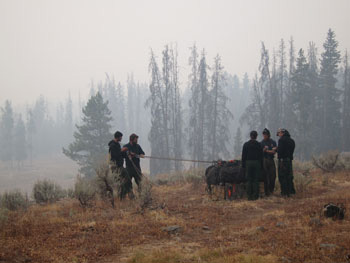 History
Large fires in the late 1980's lead Grand Teton NP towards developing a crew to implement mechanical treatments throughout the Park. In 1992 the Park created a Grand Teton Hazard Fuels Crew, based in Colter Bay, WY and consisted of four park personnel. The crew remained in this configuration until 1998 when the crew moved its base of operation to Blackrock Ranger Station. The crew changed its name to the Teton Interagency Fuels Crew (TIFC) and was staffed with six National Park Service personnel. In 2001 the TIFC became truly interagency when it hired its first Bridger-Teton National Forest seasonal. The crew was made up of 6-9 seasonal employees (1039s) until 2005 when the crew hired its first Permanent Seasonal Employee (PSE) foreman position. In 2008 the crew's structure became more defined when it added two PSE squad bosses, and this interagency structure has remained since. In 2012 the crew began a new chapter as the Teton Wildland Fire Module, developing from its fuels management roots to a highly skilled Wildland Fire Module. The module was certified as a Type 1 WFM resource in 2016. PAST CREW PHOTOS
Blackrock Ranger Station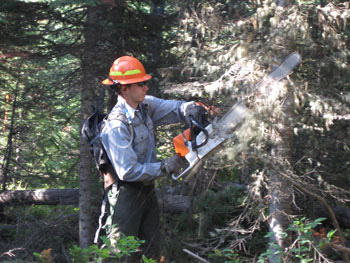 Blackrock Ranger Station is located on the Buffalo Ranger District, 40 miles north of Jackson, Wyoming, and 8 miles east of Moran and the North Gate to Grand Teton National Park. The District manages approximately 750,000 acres of National Forest System lands, 585,486 acres of which are within the Teton Wilderness. The area is extremely beautiful with the Teton Range in full view from most areas of the District. There is an abundance of wildlife such as moose, elk, mule deer, grizzly bear, black bear, and trumpeter swan, which adds to the beauty and grandeur.