Colter Bay Duty Station

The duty station for Engine 4 is Colter Bay Village, a community within Grand Teton National Park located on the north shore of Jackson Lake. It features two restaurants, a marina, the Colter Bay Visitor Center & Indian Museum, a small grocery store, trail rides, direct access to Jackson Lake, with close, easy access to the Snake River for great fishing and float trips. Colter Bay is 15 miles south of the south gate to Yellowstone National Park, 12 miles northwest of Moran and 45 miles from Jackson. Employee housing is provided within the Colter Bay Village.
The crew consists of:
an engine boss (engine boss and ICT5 minimum qualifications);
assistant engine boss (squad boss, ICT5, engine operator);
firefighter 1 crew member (squad boss and ICT5 trainee, engine operator);
and a firefighter 2 crewmember (S-130/190 qualified).
All four personnel are National Park Service employees, but the crew works closely with the neighboring Bridger-Teton National Forest fire modules and staff. Engine 4 is a type 6 engine, developed for off-road wildland fire suppression activities. It is a 2007 Ford F550 Super Cab, which holds 5 personnel and almost 300 gallons of water.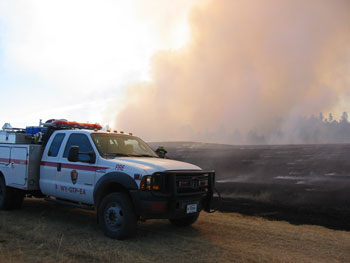 In addition to responding to both local wildfires and prescribed burns within the park and the forest, Engine 4 crew members typically have opportunities to travel on assignments to large fires with either the engine, the Teton Interagency 20-person handcrew or with other modules. The Engine module may also assist with motor vehicles accidents, search and rescues and other all-hazard emergency responses. Firefighters are offered several fire-related trainings locally throughout the month of June. The Engine 4 module also has an aggressive and fun physical training program that takes advantage of the many hiking trails within the park, as well as the exercise gym within walking distance of the fire cache.
For information on Engine 4 or employment opportunities, contact Engine Captain Tom Edwards at 307-739-3510 or by email at thomas_edwards@nps.gov.