ZONE CONCEPT
The Southwest Area is divided into nine Zones, plus the State of Arizona Division of Fire Management. Each Zone has its own interagency Zone Coordinating Group comprised of representatives from the Federal and State agencies within the Zone. This Group is responsible for overseeing fire management activities within the Zone to include individual and team training (i.e. Type 3), and daily operations of the primary dispatch center.
SOUTHWEST AREA
ARIZONA
NEW MEXICO
Taos Zone

Taos Dispach Center (NM-TDC)



Santa Fe Zone

Santa Fe Dispatch Center (NM-SFC)



Albuquerque Zone

Albuquerque Dispatch Center (NM-ABC)



Gila/Las Cruces Zone

Silver City Dispatch Center (NM-SDC)



Pecos Zone

Alamogordo Dispatch Center (NM-ADC)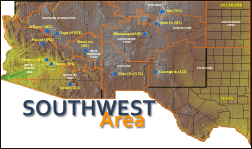 Click here for Zone Map
DISPATCH CENTERS & UNITS
The Dispatch Center is considered the third-tier of the National Dispatch System. It is the focal point for mobilizing firefighting resources between units within the dispatch area of responsibility. This includes coordinating resources within a unit and incoming resources from other dispatch areas, mobilizing resources to other dispatch areas, and collecting and disseminating fire intelligence information within dispatch area and with the SWCC. The Southwest Area has twelve Dispatch Centers that mobilize and demobilize resources directly with SWCC. In some Zones, there may be a fourth-tier dispatch center, which work with the Zone's primary dispatch center.
ARIZONA
Arizona Dispatch Center (AZ-ADC)
(623.582.0911 / 1.800.309.7081)
AZS - Department of Forestry and Fire Management (AZ-AZS)
North District (AZ-A1S)
Northeast District (AZ-A2S)
Southeast District (AZ-A3S)
Central District (AZ-A4S)
Northwest District (AZ-A5S)

Flagstaff Dispatch Center (AZ-FDC)
(928.527.3552)
BIA - Navajo Area Dispatch Center (AZ-NAC)

Navajo Area Office (AZ-NAA)
Hopi Agency (AZ-HOA)

NPS - Canyon de Chelly NM (AZ-CAP)
NPS - Hubbell Trading Post NHS (AZ-HUP)
NPS - Navajo Nat. Mon. (AZ-NAP)
NPS - Montezuma Nat. Mon. (AZ-MCP)
NPS - Sunset Crater Nat. Mon. (AZ-SUP)
NPS - Tuzigoot Nat. Mon. (AZ-TZP)
NPS - Walnut Canyon Nat. Mon. (AZ-WAP)
NPS - Wupatki Nat. Mon. (AZ-WUP)
USFS - Coconino National Forest (AZ-COF)

Williams Dispatch Center (AZ-WDC)
(928.635.2601)
BIA - Truxton Canyon (AZ-TCA)
NPS - Grand Canyon Nat. Park (AZ-GCP)
USFS - Kaibab National Forest (AZ-KNF)
Phoenix Dispatch Center (AZ-PHC)
(480.457.1555)
BIA - San Carlos Agency (AZ-SCA)
BIA - Pima Agency (AZ-PMA)
BIA - Salt River Agency (AZ-SRA)
NPS - Tonto National Memorial (AZ-TOP)
USFS - Tonto National Forest (AZ-TNF)
Prescott Dispatch Center (AZ-PDC)
(928.777.5700)
BIA - Colorado River Agency (AZ-CRD)
BIA - Fort Yuma Agency (AZ-FYA)
BIA - Western Regional Office (AZ-WEA)
BLM - Arizona State Office (AZ-ASO)
BLM - Kingman Field Office (AZ-CRD)
BLM - Lake Havasu Field Office (AZ-CRD)
BLM - Phoenix District (AZ-PHD)
BLM - Yuma Field Office (AZ-CRD)
FWS - Bill Williams NWR (AZ-BWR)
FWS - Cibola NWR (AZ-CBR)
FWS - Havasu NWR (AZ-HVR)
FWS - Imperial NWR (AZ-IMR)
FWS - Kofa NWR (AZ-KGR)
USFS - Prescott National Forest (AZ-PNF)
Show Low Dispatch Center (AZ-SDC)
(928.532.2700)
BIA - Fort Apache Agency (AZ-FTA)
NPS - Petrified Forest Nat. Park (AZ-PFP)
USFS - Apache-Sitgreaves National Forest (AZ-ASF)
Tucson Dispatch Center (AZ-TDC)
(520.202.2710)
BIA - Papago Agency (AZ-PPA)
BLM - Gila District (AZ-GID)
FWS - Buenos Aires NWR (AZ-BAR)
FWS - Cabeza Prieta NWR (AZ-CPR)
FWS - San Bernardino (AZ-SBR)
NPS - Casa Grande Nat. Mon. (AZ-CGP)
NPS - Chiricahua Nat. Mon. (AZ-CHP)
NPS - Coronado Nat. Mon. (AZ-COP)
NPS - Fort Bowie Nat. Hist. Park (AZ-FBP)
NPS - Organ Pipe Nat. Mon. (AZ-ORP)
NPS - Saguaro Nat. Park (AZ-SAP)
NPS - Tumacacori Nat. Mon. (AZ-TUP)
USFS - Coronado National Forest (AZ-CNF)
NEW MEXICO / WEST TEXAS
Alamogordo Dispatch Center (NM-ADC)
(575.437.0778)
BIA - Mescalero Agency (NM-MEA)
BLM - Carlsbad Field Office (NM-CAD)
BLM - Roswell Field Office (NM-ROD)
DOD - White Sands Missle Range (NM-WSQ)
FWS - Bitter Lake NWR (NM-BTR)
FWS - San Andres NWR (NM-SNR)
NMS - Capitan District (NM-N5S)
NPS - Carlsbad Caverns Nat. Park (NM-CCP)
NPS - White Sands Nat. Mon. (NM-WHP)
USFS - Lincoln National Forest (NM-LNF)


West Texas Units

NPS - Guadalupe Mountains Nat. Park (TX-GUP)
Albuquerque Dispatch Center (NM-ABC)
(505.346.2660)
BIA - Ramah Navajo Agency (NM-RNA)
BIA - Southern Pueblos Agency (NM-SPA)
BIA - Zuni Agency (NM-ZUA)
BLM - Rio Puerco Field Office (NM-RPD)
BLM - Socorro Field Office (NM-SCD)
DOD - Kirtland Air Force Base (NM-KLQ)
FWS - Bosque del Apache NWR (NM-BDR)
FWS - Valle De Oro NWR (NM-VOR)
FWS - Sevilleta NWR (NM-SER)
NMS - Bernalillo District (NM-N6S)
NPS - Chaco Culture Nat. Mon. (NM-CHP)
NPS - El Malpais Nat. Mon. (NM-ELP)
NPS - El Morro Nat. Mon. (NM-EMP)
NPS - Petroglyphs Nat. Mon. (NM-PGP)
NPS - Salinas Pueblo Missions Nat. Mon. (NM-SAP)
USFS - Cibola National Forest (NM-CIF) - including Administrative units in West Texas & Oklahoma
Santa Fe Dispatch Center (NM-SFC)
(505.438.5600)
BIA - Northern Pueblos Agency (NM-NPA)
BIA - Santa Clara Tribe (NM-SCT)
BLM - New Mexico State Office (NM-NSO)
DOE - Los Alamos Nat. Lab (NM-LNL)
FWS - Las Vegas NWR (NM-LVR)
FWS - Mora Refuge (NM-MRR)
NMS - Las Vegas District (NM-N4S)
NMS - New Mexico State Forestry (NM-NMS)
NPS - Bandelier Nat. Mon. (NM-BAP)
NPS - Fort Union Nat. Mon. (NM-FUP)
NPS - Pecos Nat. Hist. Park (NM-PEP)
NPS - Intermountain Region - Santa Fe Office (NM-SWP)
NPS - Valle Caldera Nat. Preserve (NM-VCP)
USFS - Santa Fe National Forest (NM-SNF)
Silver City Dispatch Center (NM-SDC)
(575.538.5371)
BLM - Las Cruces District (NM-LCD)
NMS - Socorro District (NM-N3S)
NPS - Gila Cliff Dwellings Nat. Mon. (NM-GIP)
USFS - Gila National Forest (NM-GNF)
Taos Dispatch Center (NM-TDC)
(575.758.6208)
BIA - Jicarilla Agency (NM-JIA)
BIA - Taos Tribe (NM-TAT)
BLM - Farmington Field Office (NM-FAD)
BLM - Taos Field Office (NM-TAD)
FWS - Maxwell NWR (NM-MXR)
NMS - Chama District (NM-N1S)
NMS - Cimarron District (NM-N2S)
NPS - Aztec Ruins Nat. Mon. (NM-AZP)
NPS - Capulin Volcano Nat. Mon. (NM-CAP)
USFS - Carson National Office (NM-CAF)