REPORT WILDFIRES
Contact
TO REPORT A WILDFIRE:
Contact Boise Dispatch at (208) 384-3400
Contact the local fire department
Contact the local county sheriff's office
Dial 911 or #fire
For general information contact Boise Dispatch at (208) 384-3398, or email the dispatch center at idbdc@firenet.gov for additional information.
Office Hours
FIRE SEASON (June-October):
The center is staffed seven days a week from 7:00 AM to 7:00 PM.
Dispatch remains open for extended staffing as fire activity dictates.
SHOULDER SEASON (November-May):
The center is staffed Monday to Friday from 8:00 AM to 4:30 PM.
Dispatch staff is on-call and available after hours.
Safety
Safety and Risk Management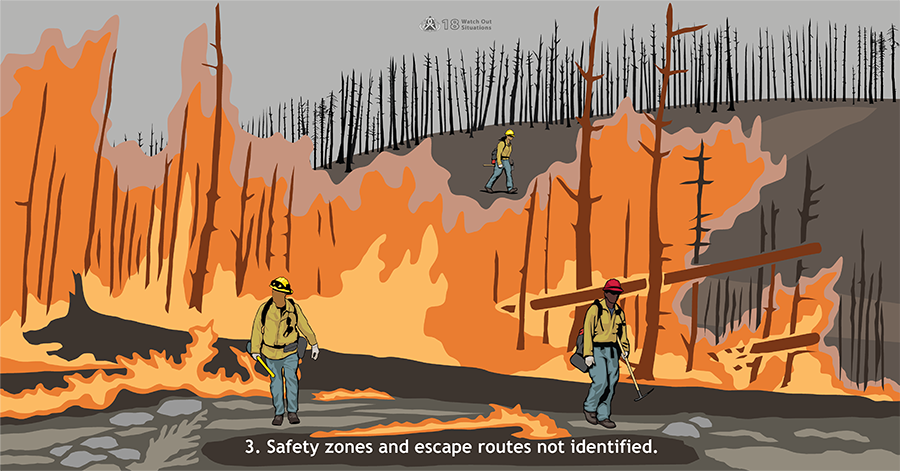 The wildland fire environment exposes employees, cooperators, and contractors to significant hazards. Fortunately, the majority of risk inherent in the dyanmic-fire environment is manageable through deliberate, collaborative, and thoughful risk management.
The risk management process exists to help managers and employees identify and communicate mission objectives (leader's intent), identify risks, and evaluate how to mitigate those risks to the lowest-level possible. (Image Credit: National Wildfire Coordinating Group)
Risk management is an iterative process, that involves the continual reassessment of hazards and situational awareness. Risk management in wildland fire utilizes a five-step process:
SITUATIONAL AWARENESS
HAZARD ASSESSMENT
HAZARD CONTROL
INFLECTION/DECISION POINT
EVALUATION
Emergency Medical Response
Boise Interagency Dispatch Center
Great Basin Coordination Center
Additional Resources