REPORT WILDFIRES
Contact
TO REPORT A WILDFIRE:
Contact Boise Dispatch at (208) 384-3400
Contact the local fire department
Contact the local county sheriff's office
Dial 911 or #fire
For general information contact Boise Dispatch at (208) 384-3398, or email the dispatch center at idbdc@firenet.gov for additional information.
Office Hours
FIRE SEASON (June-October):
The center is staffed seven days a week from 7:00 AM to 7:00 PM.
Dispatch remains open for extended staffing as fire activity dictates.
SHOULDER SEASON (November-May):
The center is staffed Monday to Friday from 8:00 AM to 4:30 PM.
Dispatch staff is on-call and available after hours.
Aviation
Fire and Aviation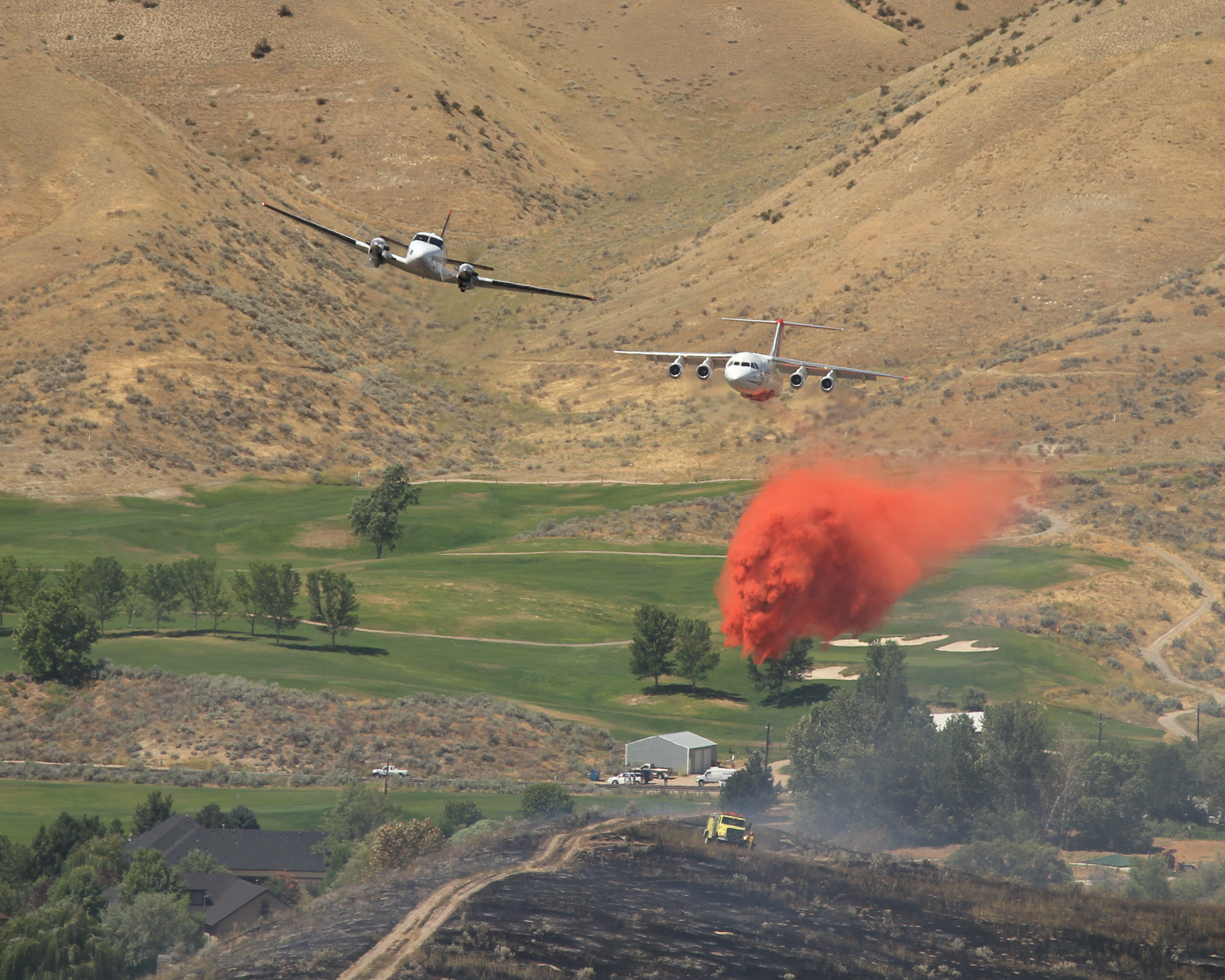 Federal and State agencies utilize a variety of aircraft to manage wildfires. While aircraft alone cannot put out wildfires, fixed and rotor-wing aircraft provide critical support to firefighters on the ground. Firefighters rely on aircraft to:
Detect new starts and map fire perimeters
Provide aerial supervision for incident aircraft and ground resources
Deploy smokejumpers and rappellers to fires in the remote backcountry
Deliver fire retardant and water to slow a fire's progression
Provide logistical support by delivering equipment and supplies
Provide aerial ignition on RX Burns
Boise Interagency Dispatch Center hosts two "Air Attack" platforms and four helicopter programs. The BLM Idaho State Office and U.S. Forest Service (Intermountain Region) each sponsor one "Air Attack" platform. As well, the Boise District BLM hosts the Boise Helitack module. The Boise National Forest hosts 3 helicopter programs: a Type 1 helicopter, the Lucky Peak Rappel crew, and the Garden Valley Helitack module. (Photo: RA9 ADA County, 2015)
Additionally, Boise Dispatch coordinates the moblization of National aviation resources, including BLM and U.S. Forest Service Lead Planes. The center also coordinates with the Boise Air Tanker Base and Mt. Home SEAT Base (U76) to launch airtankers (retardant aircraft) in support of fire suppression efforts locally, within the Great Basin, and the nation.
Helitack Modules
Helitack modules specialize in the use of helicopters for initial attack as well as large fire support. The aircraft provide rapid transport, allowing firefighters to quickly respond to and size up wildfires, especially in remote, inaccesible locations. Helitack modules may land near a wildfire or, if equipped and trained, rappel from the helicopter into a pre-identified area. Once on the ground, the firefighters construct fireline and/or helispots to shuttle additional resources into the fire. Helicopter crewmembers also perform other duties such as conducting firing operations, overseeing the aerial delivery of fire suppression equipment, and managing helibases.
BOISE HELITACK
Boise Helitack (BLM) is a 24-person module that manages a Blackhawk helicopter (UH-60). The module fills a variety of suppression and support roles during initial attack and on large fires. The module may operate as a 20-person handcrew and/or crewmembers will fulfill a variety of operational roles including: ABRO, DECK, HMGB, and HEBM. The module is stationed in Boise, ID at the airport. (Photo: Boise Helitack, 2019)
BOISE HELITACK
Tour of Duty
Employees report in late April or early May and work until the helicopter goes "off contract" in early October. Late-season work is typically available for interested employees. Crewmembers, hired as "seasonal firefighters" (1039s), will receive overtime pay for hours worked in excess of the scheduled 8 hours base time and hazard pay while working on uncontained wildfires.
Boise Helitack strives to facilitate the development of its crewmembers. As permitted by staffing and fire activity, cremembers will have the opportunity to accept training assignments and apply for official "details."
Potential Applicants
Boise Helitack seeks to fill a limited number of positions annually. Applicants must meet all agency requirements for employment in a primary firefighting job. Management seeks professional, self-motivated, physically-fit candidates who will thrive in a dynamic work environment.
MINIMUM QUALIFICATIONS
1 season (3 months) fireline experience
Firefighter Type 2 (FFT2)
DESIRED QUALIFICATIONS
Firefigther Type 1 (FFT1)
Helicopter Crewmember (HECM)
Incident Commander Type 5 (ICT5)
How to Apply
Interested candidates should check USAJOBS frequently for vacancies and carefully review job announcement(s) to determine the minimum qualifications for the desired position. Applicants are encouraged to submit their applications early to receive consideration and to be sure to select Boise, ID as the duty station.
To learn more about the application process, or to apply for a vacancy, visit the following websites:
Contact
For more information, contact the Boise Helitack crew supervisor via phone or email.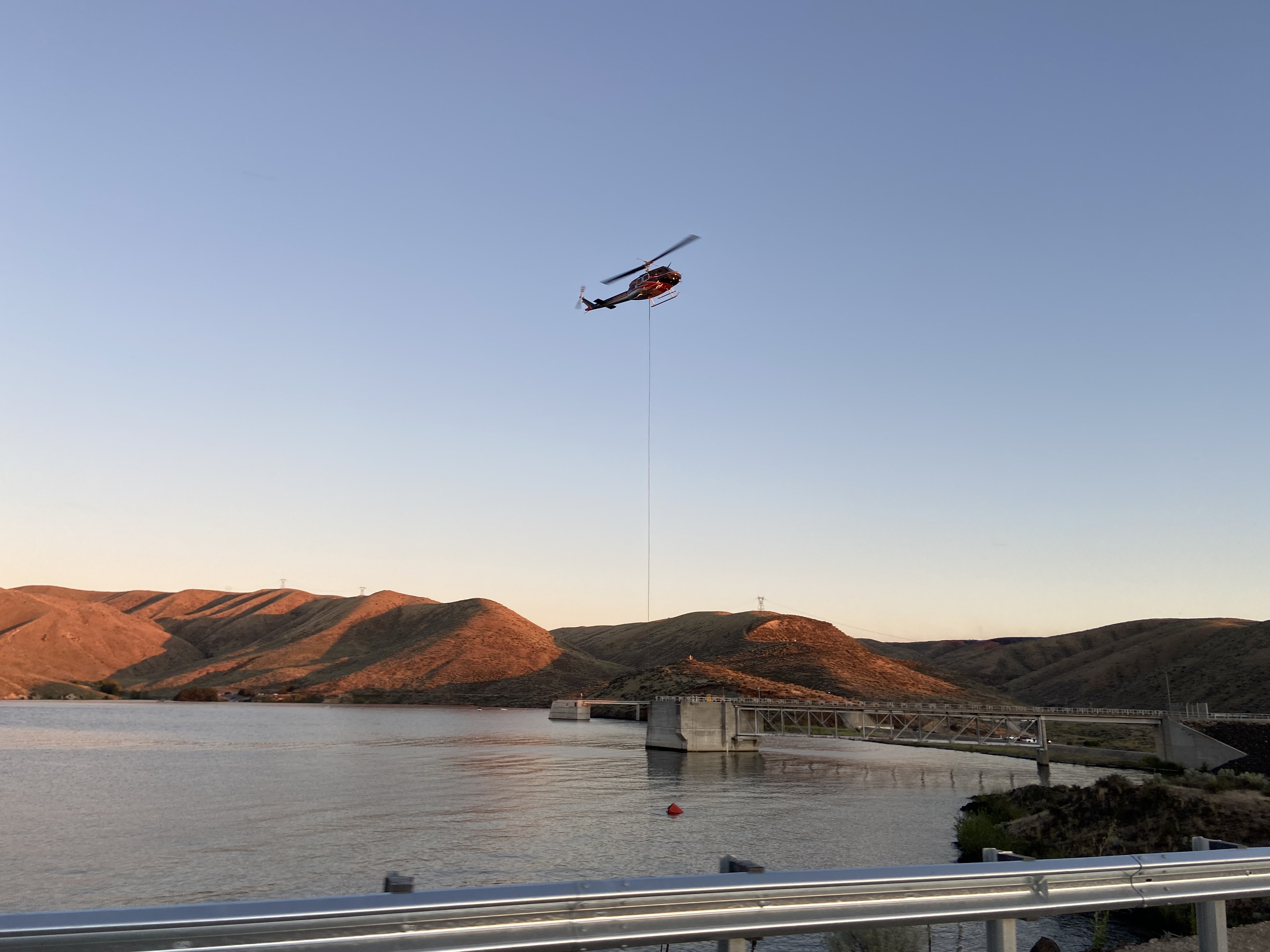 LUCKY PEAK RAPPEL CREW
The Lucky Peak Rappel Crew is a 15-person module that manages a Bell 205 helicopter. The module fills a variety of suppression and support roles. Firefighters rappel to initial attack small fires and/or construct helispots, oversee crew shuttles to and from incidents, provide logisitical support, and conduct aerial ignition operations on wildland and prescribed fires. The module is stationed at Lucky Peak, ID. (Photo: Dipping out of Lucky Peak Reservoir, 2020)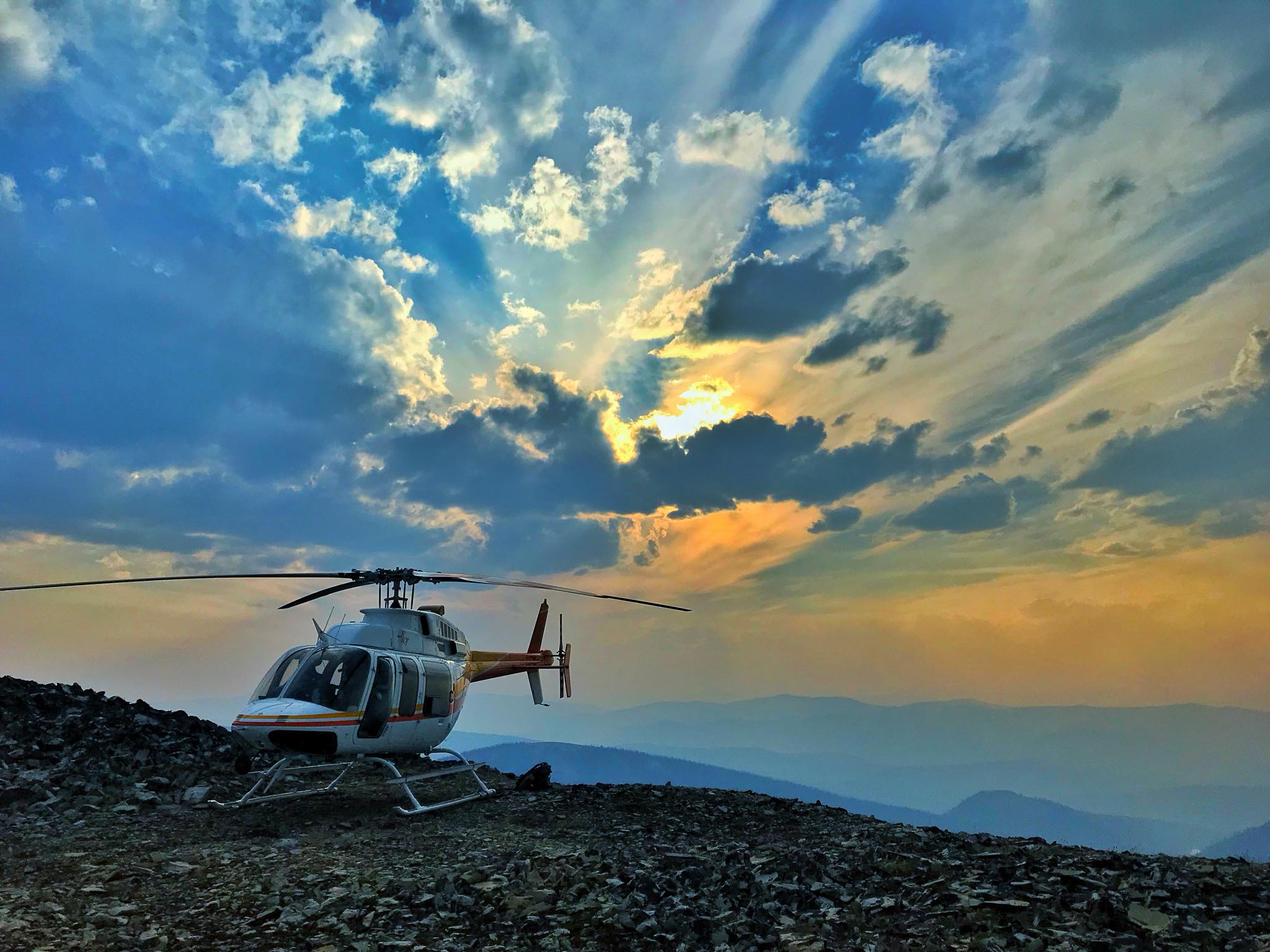 GARDEN VALLEY HELITACK
Garden Valley Helitack is a 12-person module that manages a Bell 407 helicopter. The module specializes in initial attack and fills a variety of suppression and support roles, which include helispot construction, crew transport and shuttles, bucket work, hot spot detection, and aerial mapping. The module is stationed in Garden Valley, ID. (Photo: Helicopter landed on ridgetop, 2018)
Aviation Forms
Aviation Maps (Aerial Hazards)
Aircrew Orientation Guide