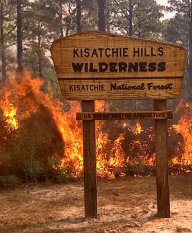 The National Intelligence Support Specialist (INTS) training course has been in existence for more a number of years, with the first alpha course held in McClellan, CA in 2003. Over the years, the course has gone through numerous revisions as policies, programs, and products are consistently changing each year.
Attendence at this course is designed to train individuals in the functions and responsibilities of the Intelligence Support Specialist (INTS) position within the dispatch/coordination system. The target group includes those individuals responsible for the intelligence workload at the initial attack dispatch office and those interested in providing intelligence support at the local Dispatch Center, Geograpic Area Coordination Center (GACC), and National Corrdination Center (NICC).
This site has been designed with the student in mind by providing all of the student workbooks, instructors PowerPoint presentations, handouts, and exercises that are used duing the course. We hope you find the site useful as you pursue helping out within the Intelligence community.
To learn more about the INTS course, click on any of the buttons located under the COURSE ADMINISTRATION header on the leftside menubar.
National Intelligence Coordinators Group
Back to the National Intelligence Operations Program page