Block 41. Planned Actions for Next Operational Period
Provide a short summary of actions planned for the next operational period. For example, incident management team transitions, line construction operations, structure protection, etc.
Examples:
The current Incident Management Team will transfer command to another IMT.
Continue holding Division A.
Continue to review operational/ engineering plan to facilitate removal of the partially collapsed west bridge supports.
Continue refining mapping of the recovery operations and damaged assets using GPS.
Initiate removal of unauthorized food vendors.
Block 42. Projected Final Incident Size/Area

Enter an estimate of the total area likely to be involved or affected over the course of the incident. Label the estimate of the total area or population involved, affected, or impacted with the relevant units such as acres, hectares, or square miles by selecting from the drop-down list.

NOTE
: The total area involved may not be limited to geographic area (see previous discussions regarding incident definition, scope, operations, and objectives).
Block 43. Anticipated Incident Containment or Completion Date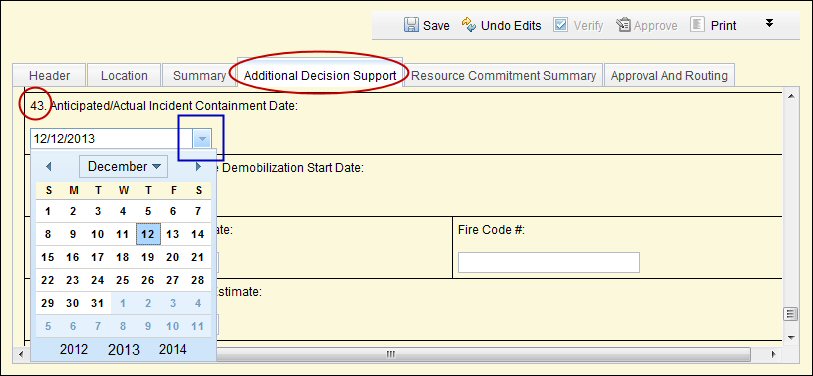 Select the expected containment or completion date of the incident using the pop-up calendar.
For

wildland fire incidents

, select the date at which full containment is expected.


For

other incidents

, select the date when the incident is expected to be completed, or when significant incident support will be discontinued.
Block 44. Projected Significant Resource Demobilization Start Date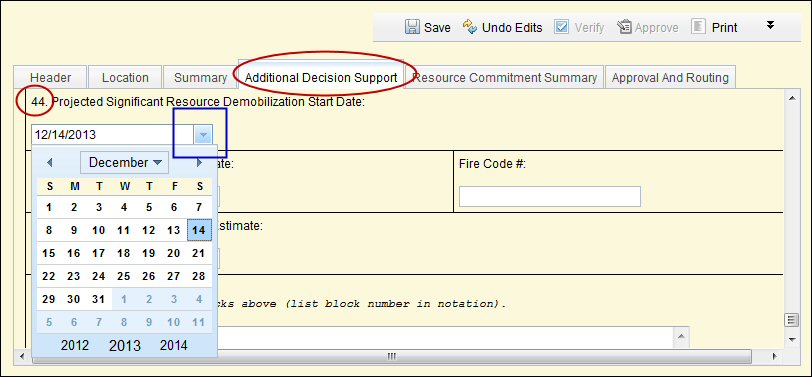 Select the date from the pop-up calendar at which significant demobilization is anticipated.