Block 9. Incident Type


Enter a general definition of the incident in this block. This may be a general incident category or kind description, such as "Wildfire", "Flood", "Tornado", "Civil Unrest/People Gathering", etc.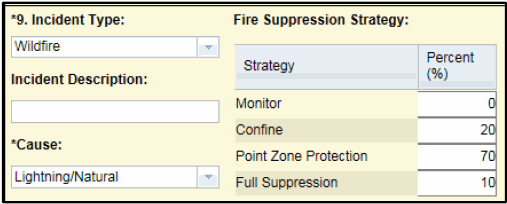 Select from the drop-down menu the incident type. There are 21 types to choose from:
Wildfire
Thunderstorm, Chemical Disaster, Dam Failure, Biological Outbreak, Earthquake
Flood, Foreign Disaster Assistance, Hazardous Materials, Heat Event, Hurricane
Mass Earth Movement / Avalanche, Nuclear Emergency, Civil Unrest / People Gathering
Search and Rescue / Recovery, Terrorism, Tornado, Tsunami, Volcanic Eruption, Winter Storm
Other, Complex
Incident Description
Allows more detailed description of the incident. For example: If Incident Type is "Biological Outbreak," description might say "Swine flu epidemic."
Cause


Select the cause (Human, Lightning/Natural, Other, Unknown) from the drop-down list.
For incidents caused by natural events, use "Lightning/Natural" for the cause description. Additional information can be provided in the Remarks block.
If cause is undetermined, use "Unknown."
Fire Suppression Strategy

This a Required Field when "Wildfire" is selected as Incident Type. This section is grayed out for non-fire incidents – as shown in the flood example below.
Select from the drop-down menu the management strategy that best represents the situation for the operational reporting period. Enter the percentage of the fire perimeter that meets the following strategy for the incident:
Monitor

is the systematic process of observing, collecting and recording of fire]related data, particularly with regards to fuels, topography, weather, fire behavior, fire effects, smoke, and fire location. This may be done onsite, from a nearby or distant vantage point in person or using a sensor, or through remote sensing (aircraft or satellite).



Confine

is to restrict a wildfire to a defined area, using a combination of natural and constructed barriers that will stop the spread of the fire under the prevailing and forecasted weather conditions until out. This means, "some action is or has been taken" (line construction, bucket drops, etc.) to suppress portions of the fire perimeter.



Point or Zone Protection

involves protecting specific points from the fire while not actively trying to line the entire fire edge. Points being protected may be communities, individual homes, communication sites, areas of high resource value, etc.



Full Suppression

implies a strategy to "put the fire out," as efficiently and effectively as possible, while providing for firefighter and public safety. To complete a Fireline around a fire to halt fire spread, and cool down all hot spots that are immediate threat to control line or outside the perimeter, until the lines can reasonably be expected to hold under foreseeable conditions. Full Suppression is synonymous with "Full Perimeter Containment" and "Control."
Fire managers may have a need to adjust an incidents suppression strategy over the life of an incident. In these incidences users should add further suppression strategy clarification in the Remarks, Block 47.
---
Additional suppression strategy clarification can be made in the Remarks block (Block 47).
For more information on suppression strategies, go to the national Intelligence webpage at: http://www.predictiveservices.nifc.gov/intelligence/intelligence.htm or Chapter 20 of the National Mobilization Guide: http://www.nifc.gov/nicc/logistics/references.htm.
Example:
Wildfire


Non-Wildfire