REQUESTING A NEW FAMWEB USER ACCOUNT
NOTE: If you change agencies, obtain a new job, etc, you do not need to create a new FAMWEB account each time. You simply need to edit your current profile in FAMWEB (See Current FAMWEB Users). You can also contact your GACC Intelligence Coordinator if you need additional help.
To request a new FAMWEB LogOn ID, click the "FAMWEB" link in the upper leftside menubar, then "New User Accounts." Once the page opens, click the "Application Account" link and enter your user information online.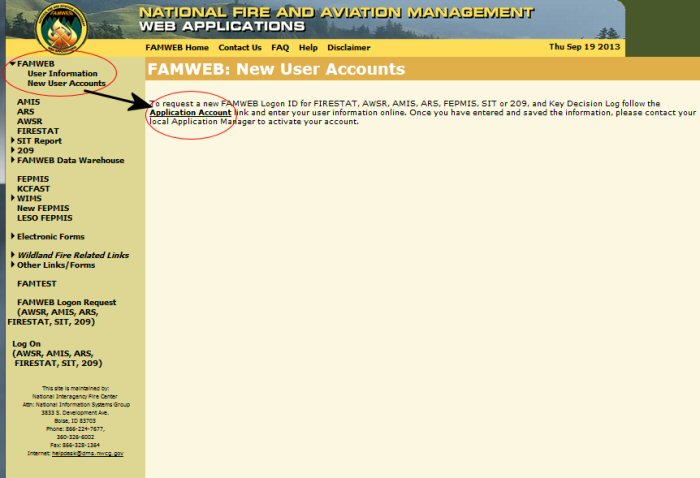 Upon clicking "Application Account," complete the following: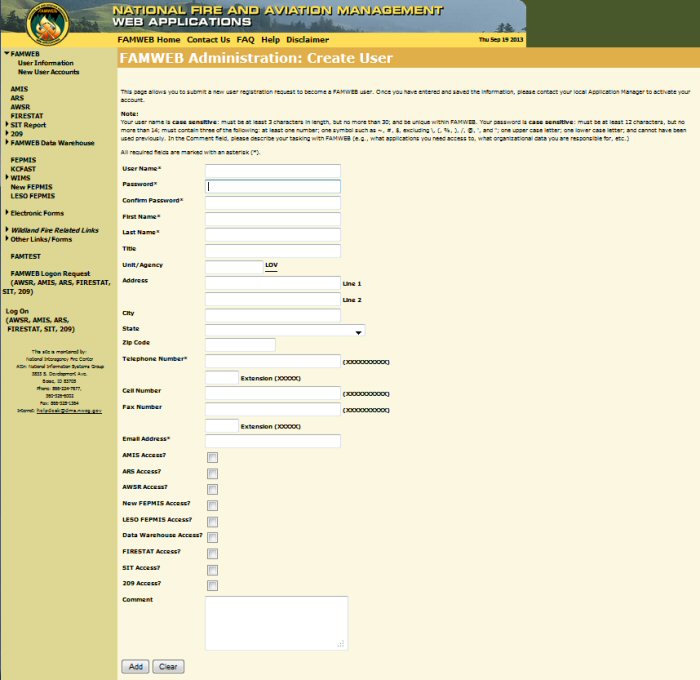 Note the following when completing the online registration form:
At minimum, you will need to fill in all

Required

boxes completely. These boxes are marked with an "

*

".

This identifies who you are to FAMWEB managers.
Incomplete requests may be rejected.


Your

User Name

is case sensitive. It

must be unique within FAMWEB.

It must be at least 3 characters in length, but no more than 30. It is preferred that the

User Name

be the person's

first name initial and last name

(or portion of last name) (i.e. jdoe, etc).
A numeral may also be included for very common names to avoid duplication (i.e. jdoe01, etc).


Your

Password

is case sensitive.

must be at least 12 characters, but no more than 14
must contain the following:

at least one number
one symbol such as ~, #, $, excluding \, (, %,), /, @, ', or "
one upper case letter; one lower case letter;
cannot have been used previously


passwords will expire every 60 days.

For

Unit / Agency

, click LOV (List of Values) to the right and select.

Make sure you check the box for

SIT Access and / or 209 Access

.

In the

Comment

field, please describe your tasking with FAMWEB (e.g., purpose for requesting an account, (i.e. work as an IADP, SITL on Northern Rockies IMT, etc.)

If you need help getting a LogOn ID and password, contact the Applications Help Desk at 800-253-5559 or 208-387-5290.
Once you have registered your new account, contact your GACC Intelligence Coordinator to associate your account to the SIIT Report and / or 209 Program.