Planned Rx (Prescribed) Fires (Tab 2)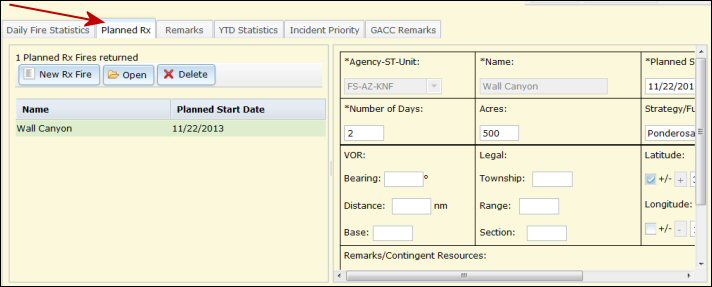 The Planned Rx screen reports prescribed fire projects that are planned within the next few days. It provides managers an idea of the number of projects being conducted in the short term, along with general remarks and descriptions for planned and contingent resource commitments.

NOTE
: Reporting procedures for Planned Rx fires differ from GACC to GACC. Consult your
respective GACC with questions.
Current GACC reporting procedures are:
| State | Reporting Procedures |
| --- | --- |
| Alaska | Report all Planned Rx fires for the next reporting period. |
| California | Report all Planned Rx fires for the next reporting period. |
| Eastern | Report all Planned Rx fires planned for ignition within the next 24 hours. |
| Great Basin | Report all Planned Rx fires planned for ignition within the next day. |
| Northern Rockies | Not required to report Planned Rx fires on the SIT report. |
| Northwest | Report all Planned Rx fires planned for ignition within the next 2-3 days. |
| Rocky Mountain | Report all Planned Rx fires one day prior to the day of planned ignition and update the report on each day subsequently, until the prescribed fire is complete. |
| Southern | State Coordination Centers will report all Planned Rx fires one day prior to the day of planned ignition. |
| Southwest | No requirement (i.e. optional) to report Planned Rx fires in the SIT Progam. |
Table 1: GACC Reporting Procedures by State