Bridger Teton National Forest Projects
Pinedale Ranger District: Skyline Wildland Urban Interface Fuels Reduction Project
Fuels reduction treatments utilizing equipment as well as prescribed burning. The treatments will reduce the risk of high severity wildfire and increase public and firefighter safety.
Jackson Ranger District: Teton to Snake Fuels Management Project Updates
Taylor Mountain Prescribed Fire
Fire managers are preparing to conduct a prescribed burn south Wilson on the Jackson Ranger District in mid-October 2019 before the heavy winter weather arrives and inhibits burning activities.
The Taylor Mountain unit is 127-acres, located in Teton County, WY, approximately 7.6 miles South of Wilson and adjacent to the Highland Hills and Hidden Hills Subdivisions. The prescribed burn is part of the Teton to Snake vegetation management project which helps the Forest meet essential goals of being a good neighbor through Firewise practices for homes and neighborhoods adjacent to public land in support of fire adaptive communities. The project also reduces risk and cost of fire suppression during an unwanted fire within the wildland urban interface area.
Project Map   Press Release   Flyer
Phillips Ridge Pile Burning to Start in October 2019
Thinning/cutting treatments for the Phillips Ridge area are complete for the 2019 season. Thank you to all those who recreated in the area during thinning operations, for the cooperation with respect to trail access and closures. Firefighters will now move into last year's treatment area (T-3) and ignite those piles. Smoke will be visible from the greater Jackson Hole area. All treatment of piles require cool, moist weather to help prevent the piles from creeping into surrounding vegetation and into treetops.
Take time to learn how you can support fire adapted communities and minimize the wildfire hazards within your neighborhood Fire Adapted Communities . To learn more about how you can support fire prevention and project information contact Lesley Williams-Gomez 307-739-5424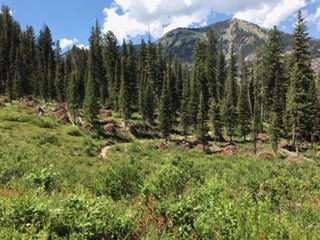 Image of piles to be burned October 2019
Trails End Prescribed Fire 2020
This project is one of the many treatment units identified within the Teton To Snake Fuels Reduction Project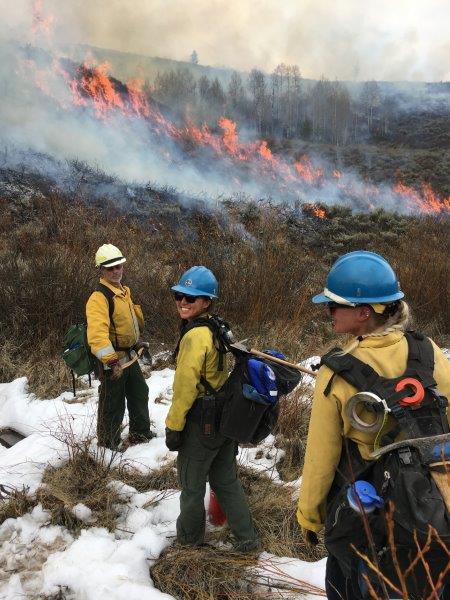 . Fuels Reduction efforts are designed to decrease ember wash and the high risk associated with wildfires that could impact the Redtop Meadows and Fall Creek Corridor communities. Spring of 2019, fire crews began "black lining" the project area perimeter in an effort to allow for follow up treatments within the unit for more burning during the Spring of 2020
 & Firefighters black-lining Trails End unit perimeter in early spring 2019 to create a holding line for late fall burning, designed to help to keep fire within the treatment areas perimeter.
Grand Teton National Park Projects - 2020
Beaver Creek North
The Beaver Creek area in Grand Teton NP includes the park's original headquarters, administrative area, and employee housing.  It is a listed historic district.  Fuels treatments around the old headquarters area began in the park in the late 1980's with additional treatments continuing in the 1990's.  As additional housing units were constructed to the north of the historic district, fuels treatments were extended along the west side of the developed area.  As time passes the treated areas require re-treatment due to encroaching seedlings/saplings and mature trees having died and fallen.
In 2020 crews will re-treat 21 acres of mixed conifer forest to the north and west of the Beaver Creek area.  The mechanical treatment targets surface fuels, forest canopy, and ladder fuels and cut material will be piled on-site to burn after the fuels have sufficiently dried and snow on the ground limits surface fire spread.  Mechanical treatments are coordinated with resource managers to avoid any nesting birds and piles are constructed in areas where ground disturbance will have minimal effect.
Sky Ranch
The Sky Ranch property was acquired by Grand Teton NP in 2005 and subsequently was evaluated and listed as a historic property whose management is directed through the park's Historic Properties Management Plan of 2017.  Sky Ranch represents a single family residence designed and constructed in the 1950's with particular attention to the building design and siting along the edge of the large adjacent meadow.
Grand Teton NP is guided by the International Wildland -Urban Interface Code that has been adopted as agency policy.  The WUI code establishes fuel treatment standards for areas adjacent to developments.  In the 2020 field season firefighters will begin to establish 21 acres of defensible space around the Sky Ranch's multiple structures.  Careful consideration is given to the historic nature of the property and the identified contributing elements identified in the historic property nomination.  Work will focus on modification or removal of vegetation immediately adjacent to the buildings, reducing the canopy cover of mature trees in the general area of the property, reducing the accumulation of dead and down fuels on the forest floor, and mowing grass, forbs, and seedlings growing in the open area around the ranch property.  Accumulated woody debris will be piled on site and burned after fuels have dried and weather and fuel conditions limit the chance of fire spread from the debris piles. 
Historic Structures Mowing
This annual effort will treat primarily grass and herbaceous fuels in the immediate vicinity of a number of historic properties in Grand Teton National Park.  These mechanical treatments are completed primarily with mowers and weed-eaters.  Project implementation is in the summer once most grass growth has finished and prior to the fine fuels fully curing for the year.  Wildland fire continues to be one of the greatest threats to loss of historic properties in the area.
Fire Effects Monitoring
The Teton Interagency Fire program includes a robust Fire Effects Monitoring element.  The Fire Effects Crew visits treatments before implementation and post-treatment.  Treatment objectives are designed not only to be effective in changing fire behavior but also measurable in the field post treatment in order to determine success.  The crew may establish permanent plots, measure burned area recovery, conduct fuels transects, and/or establish photo points.  Post treatment visits are scheduled at regular intervals (1 year, 2 years, 5 years, 10 years..) dependent on how the objectives are written.
In 2020 the Fire Effects Crew will visit the following Park projects completed in previous years:
Sage strips mowing along JH Airport Road; mechanical treatment at Ditch Creek; and mechanical treatments along the base of Shadow Mountain - all 10 years post-treatment
Matilda prescribed fire, 5 years post-treatment
Pacific Creek Road mechanical treatment, and Signal Mountain Rd (Lower End unit) mechanical treatment, immediate post-treatment
They will also visit proposed projects and establish pre-treatment plots to measure current conditions and control plots.  The crew works across the Teton Interagency Fire area, visiting treatments conducted across the Bridger-Teton National Forest and adjacent lands as well.
For further information regarding fuels management activities in Grand Teton National Park or the John D. Rockefeller Jr. Memorial Parkway, please contact Chip Collins, Fire Management Officer at 739-3310; or Bill Mayer, Deputy Fire Management Officer at 739-3313.