Information
Grouse Mountain Whitebark Pine Restoration Project
Grouse Mountain Whitebark Pine Restoration Project
LOCATION: Blackrock Ranger District on the northern aspect of Grouse Mountain.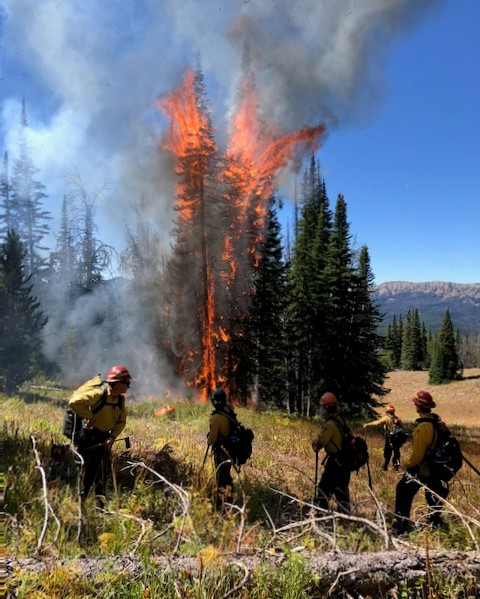 Firefighters hold the firing line and watch for falling embers as burn operations help to "daylight" the forest floor within the Grouse Mountain RX Project unit. Daylighting the unit will help to provide an open area for new Whitebark Pine seedlings to take hold helping to restore this keystone species back into the Greater Yellowstone Ecosystem.
Contact
Lesley Williams Gomez 307-739-5424
Scheduled
The first fire treatment for this project was applied in the fall of 2018. Over the next several years fire scientists will return to the project site and gather data to help develop and identify the best management practices for restoring White Bark Pine within the Greater Yellowstone Ecosystem. Re-entry into the area would be during the fall months when burning conditions in the vegetation will be more favorable for meeting the objectives scientists have identified in the project plan.