ZONE CONCEPT
The Southwest Area is divided into nine Zones. Each Zone has its own interagency Zone Coordinating Group comprised of representatives from the Federal and State agencies within the Zone. The Group is responsible for overseeing fire management activities within the Zone, including individual and team training, Type 2 team management and organization, and establishment and daily operations of Dispatch Centers. Zones Coordinating Groups may oversee more than one dispatch operation.
Arizona

Central West Zone (CWZ)
Northern Arizona Zone (NAZ)
Southeast Zone (SEZ)
White Mountain Zone (WMZ)
Arizona Interagency Fire Center (AZS)

New Mexico

Albuquerque Zone (ABZ)
Gila/Las Cruces Zone (GLZ)
Pecos Zone (PEZ)
Santa Fe Zone (SFZ)
Taos Zone (TAZ)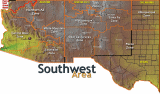 Click here for Zone Map
DISPATCH CENTERS
The Southwest Area has twelve Dispatch Centers that mobilize and demobilize resources directly with SWCC. The Dispatch Center is the focal point for mobilizing firefighting resources between units within the dispatch area responsibility, coordinating incoming resources into the dispatch area, dispatching resources mobilized out of the dispatch area, and collecting and disseminating fire intelligence information within dispatch area and with SWCC. There are additional dispatch centers within the Southwest Area, however these dispatch centers work directly with one of the dispatch centers below instead of directly with SWCC.
Arizona

Central West Zone

Arizona Interagency Dispatch Center (ADC)
(800.309.7081)
Phoenix Dispatch Center (PHC)
(480.457.1551)
Prescott Dispatch Center (PDC)
(928.777.5700)

Northern Arizona Zone

Flagstaff Dispatch Center (FDC)
(928.526.0600)

BIA - Navajo Area Dispatch Center
BIA - Hopi Agency Dispatch Center

Williams Dispatch Center (WDC)
(928.635.2601)

BIA - Truxton Canyon Dispatch Center

Southeast Zone

Tucson Dispatch Center (TDC)
(520.202.2710)

White Mountain Zone

Show Low Dispatch Center (SDC)
(928.537.5305)

New Mexico

Albuquerque Zone

Albuquerque Dispatch Center (ABC)
(505.346.2660)

Gila/Las Cruces Zone

Silver City Dispatch Center (SDC)
(575.538.5371)


Pecos Zone

Alamogordo Dispatch Center (ADC)

Santa Fe Zone

Santa Fe Dispatch Center (SFC)
(505.438.5600)

Taos Zone

Taos Dispatch Center (TDC)
(575.758.6208)
UNITS