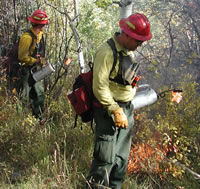 Fuels treatments are conducted on Federal lands within the UCR using mechanized equipment, labor-intensive treatments, and prescribed burning. Federal partners work in cooperation with local stakeholders on a multi-jurisdictional basis to identify and treat fuels in a wildland urban interface setting to reduce the potential for wildfire.
Treatment Type Definitions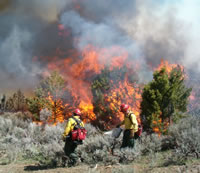 Prescribed Fire (Rx Fire):
Any fire ignited by management actions under certain pre-determined conditions to meet specific objectives related to hazardous fuels reduction or habitat improvement. A written, approved prescribed fire plan must exist, and NEPA requirements must be met prior to ignition. Prescribed fires are ignited and managed within a "window"of very specific conditions including winds, temperatures, humidity, and other factors specified in the burn plan.
Mechanical Treatments:
The manual or mechanical removal or modification of fuels. Examples include chipping, seeding, biomass removal, mowing, crushing, and piling.
Pile Burning (Rx Piles):
A fire ignited to remove the piles of material resulting from mechanical treatments.